Female leaders brighten up world political stage with glamor
( China Daily )
Updated: 2013-10-08
The presence of female leaders on the world stage has always been eye-catching.
With smiles and colorful dresses, they stand out from a sea of dark or blue suits, and liven up the atmosphere at meetings with somber topics such as the sluggish global economy.
Thus it is no surprise that the media's cameras zoom in more often on female leaders, though small in number, than on their male counterparts.
On Monday night, APEC leaders waited in line to meet Indonesian President Susilo Bambang Yudhoyono, the host of the event, at the start of a formal dinner. Journalists watching live TV broadcasts at the media center applauded when Thai Prime Minister Yingluck Shinawatra and South Korean President Park Geun-hye showed up.
Dressed in purple, Yingluck Shinawatra looked glamorous. Of course, the journalists also cheered when President Xi Jinping arrived with his stylish wife, Peng Liyuan.
The media's affection for female leaders has been consistent.
Back in September when the G20 summit was held in Russia's St Petersburg, German Chancellor Angela Merkel caught the limelight.
A big close-up TV shot of Merkel dominated the screen when she appeared at the welcoming ceremony offered by host Vladimir Putin. The camera continued to follow her as the German leader looked around for her foreign counterparts for a light chat in the conference room.
The reason might be simple. Merkel stood out with an overcoat of delicate colors.
Look at what the male leaders wear — dark blue or black.
For male leaders to win applause, they have to make fun of themselves or demonstrate some special skills.
Yudhoyono, who has several albums of love songs to his name, hit the media headlines when he brought out his guitar and strummed Happy Birthday for Putin's 61st birthday.
Compared with the female leaders, we women journalists are not so lucky.
Dark trousers, not colored skirts, are the preferred clothing for us due to their convenience.
The schedule is always busy. Even with the beach just a five-minute walk from our hotel, we did not have time to go there for a light moment.
Finally, last night, after coming back from work at around 11 pm, having covered Xi's fifth meeting with Putin this year, some of us female journalists went to the beach. We took off our shoes and waded into the soothing water.
Just imagine, late at night, a group of women in formal dress and with computers, standing in the sea to pose for pictures. Wasn't that romantic?
Good luck to the female leaders and media workers. In my eyes, they are all beautiful.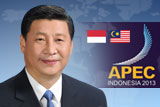 Thoughts after hearing Xi's speech
I was very happy to see that Xi Jinping did focus on trade and on the importance of Asia Pacific trade being cooperative and inclusive.