China's growth to benefit the world
By Godfrey (US) ( bbs.chinadaily.com.cn )
Updated: 2013-10-08
Welcome to join us at the China Daily forum for further discussions.
With the US in a declining mode, the world needs a steadier China. China's slower but more sustainable growth will serve world economy better and longer.
China's government managed to listen to their economists (and consider what was said) instead of simply giving total control of their economy to their top corporate contributors. A good careful step and certainly a sign that some people can learn from our mistakes - even if WE never seem to.
Well done, China, very well done, Xi Jinping. Congratulations.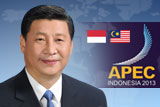 Thoughts after hearing Xi's speech
I was very happy to see that Xi Jinping did focus on trade and on the importance of Asia Pacific trade being cooperative and inclusive.