Uplifting APEC interaction
Pacific Rim economies need to better coordinate their macroeconomic policies and uphold the spirit of win-win cooperation so as to play a leading role in advancing an open world economy.
As President Xi Jinping said in a keynote speech at the Asia-Pacific Economic Cooperation economic leaders' meeting in Bali, Indonesia, on Monday, APEC economies should enhance regional economic integration and promote positive interaction.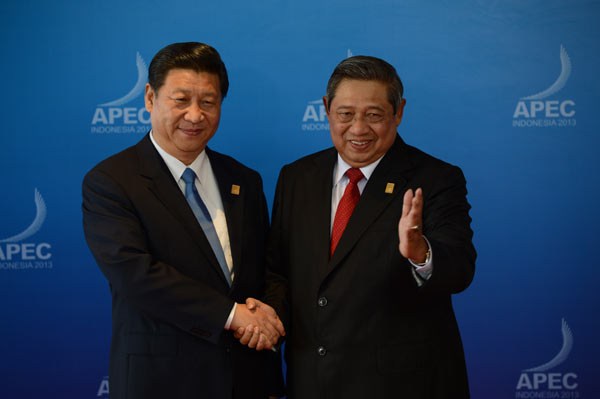 China's President Xi Jinping (left) is welcomed by Indonesia's President Susilo Bambang Yudhoyono as he arrives for a dialogue with leaders at the APEC Summit on Monday. [Photo/Agencies] 
That the members should "pursue win-win cooperation in an open and inclusive spirit" instead of "stepping on the feet of another" or even undercutting one another's efforts, is what the Chinese leader called for in the face of global economic difficulties. Moreover, we must have the courage and resolve to face them head on.
Xi's thinking echoes the theme of the 2013 APEC Summit - "Resilient Asia-Pacific, Engine of Global Growth". The global economy has entered a period of profound readjustment, with recovery remaining elusive. Only an open environment for development in the Asia-Pacific, which features policy coordination, interconnected growth and converging interests, can boost regional and global growth and help lift the world economy out of its downturn.
As the engine of the global economy shifts to Asia, a greater responsibility is naturally placed on regional groups such as APEC to become a driving force for development not only for its members, but also for the rest of the world.
According to International Monetary Fund estimates, APEC is expected to grow by 6.3 percent in 2013 and by 6.6 percent in 2014, more than twice the world average. The grouping is well positioned to play a bigger role in global development.
At a time when many APEC economies are facing the multiple challenges of capital outflow, currency devaluation, inflation and economic downturn, sustaining development in economy and trade remains of paramount importance.
As a member of APEC economies and host for the economic leaders' meeting in 2014, China hopes this year's summit will shore up courage and determination as well as macroeconomic policy coordination among member economies.
Because the economies are closely interconnected, Xi's remarks highlighted the will for a greater sense of community which will prove essential for the group to maintain its prominent role in global development and integration.
(China Daily 10/08/2013 page8)