Chinese leaders' initiatives prioritize good-neighborly ties with ASEAN for long-term peace and development
President Xi Jinping's and Premier Li Keqiang's successive Southeast Asia tours reflect Chinese leaders' strategic layout of developing relationships and partnerships with neighboring countries.
While addressing the Indonesian parliament on Oct 3, Xi said China is ready to discuss with ASEAN countries the prospect of concluding a treaty of good neighborliness, friendship and cooperation in a joint effort to further relations.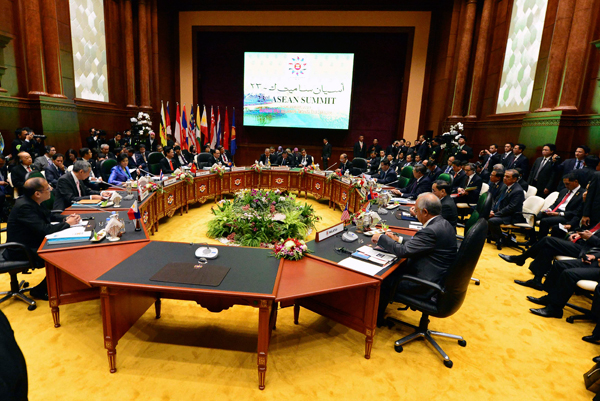 General view of the meeting room at the 23rd ASEAN Summit in Bandar Seri Begawan, Oct 9, 2013. [Photo/Agencies]  
This initiative, pushed forward by China's new central collective leadership to manage and plan the country's relations with its neighbors, will surely strengthen China-ASEAN relations and generate an unprecedented impact on East Asia.
China and ASEAN countries are neighbors linked by land and water. This unique geographical advantage is irreplaceable as an old Chinese saying goes, a good neighbor is more helpful than a brother far off.
The development of bilateral relations went through an extraordinary process from estrangement to engagement, and then to the establishment of strategic partnership. China officially recognized ASEAN in 1975, and the two sides launched dialogue relations in 1991, opening a new stage for bilateral friendly exchanges. The two sides established a strategic partnership for peace and prosperity in 2003.
China was the first to sign the Treaty of Amity and Cooperation in Southeast Asia, and the first to start free trade area negotiations with ASEAN. In January 2010, the China-ASEAN Free Trade Area was established. At present, China is the largest trading partner of ASEAN, while ASEAN is China's third-largest trading partner.
The East Asian financial crisis in the 1990s made China and ASEAN realize that the two must help each other in order to effectively resist any possible financial risks. The 2008 global financial crisis has made bilateral relations even closer, which greatly enhanced the two sides' capability to withstand the global financial crisis, and enabled East Asia's strong growth in the context of global economic downturn.