Xi: APEC should lead a more open world economy
( Xinhua )
Updated: 2013-10-08
BEIJING - The 21st informal economic leaders' meeting of the Asia-Pacific Economic Cooperation has opened in Bali, Indonesia. Sustainable growth and regional cooperation are high on the agenda. Chinese President Xi Jinping gave a key-note speech urging the region to play a leading role in developing an open world economy.
Analysing the world economic situation, President Xi said the overall momentum remains sound, but unstable and uncertain elements still pose challenges to comprehensive economic recovery and healthy growth. He urged the Asia-Pacific region to be courageous and determined to boost the economy and serve as the engine of economic recovery.
To that end, the Chinese President made a three-point proposal.
First, he said members should strengthen coordination on macro-economic policies and jointly promote regional development.
Second, Xi Jinping urged unremitting efforts to maintain financial stability in the Asia-Pacific region. He said countries should prevent financial risks from triggering political and social issues. Noting that many positive factors in the region remain unchanged, Xi Jinping said there is every reason to stay confident about regional growth potential.
Third, Xi Jinping proposed that members should deepen economic restructuring to inject more vitality into sustainable development.
In terms of free trade arrangements and the multilateral trade system, President Xi Jinping said members should promote regional economic integration. He said members should be committed to open development by opposing trade protectionism, and reinvigorating the multilateral trade system.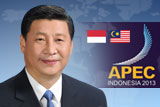 Thoughts after hearing Xi's speech
I was very happy to see that Xi Jinping did focus on trade and on the importance of Asia Pacific trade being cooperative and inclusive.