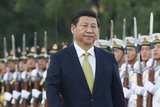 2013-09-30
President Xi will address the 21st economic leaders' meeting of the APEC forum and expound on China's reform measures.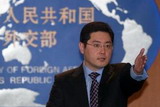 2013-09-30
China hopes the upcoming APEC summit will promote trade liberalization, facilitation and integration of multiple free trade agreements.
2013-09-30
Chinese President Xi Jinping's maiden visit to Southeast Asia in October is significant to further deepen China-Indonesia, China-Malaysia relations as well as ties between China and the Association of Southeast Asian Nations (ASEAN), vice Foreign Minister Liu Zhenmin said on Sunday.
2013-09-30
President Xi Jinping will pay visits to Indonesia and Malaysia and attend the 21st Economic Leaders' Meeting of the Asia-Pacific Economic Cooperation forum in the Indonesian province of Bali from Oct 2 to 8.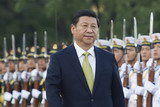 2013-09-27
President Xi Jinping talked on developing the China-Australia ties in a call with Australian PM Tony Abbott.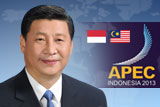 2013-09-29
Oct 2 to 3: Pay State Visit to Indonesia

Oct 4 to 5: Pay State Visit to Malaysia

Oct 6 to 8: Attend the 21st economic leaders' meeting of APEC forum and meet with global leaders in Bali, Indonesia
2013-09-29
Chinese Foreign Minister Wang Yi emphasized China's development strategies and foreign policies on pressing international issues on Friday.
 UN's Syria resolution on point
2013-09-28
China and India kicked off a series of meetings this week in Beijing to pave the way for a possible reciprocal visit by Indian Prime Minister.
2013-09-27
China on Friday responded to comments by Japan's prime minister on naval conflict by urging Japan to seek peace and stability in the East China Sea.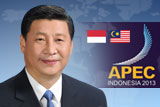 Thoughts after hearing Xi's speech
I was very happy to see that Xi Jinping did focus on trade and on the importance of Asia Pacific trade being cooperative and inclusive.