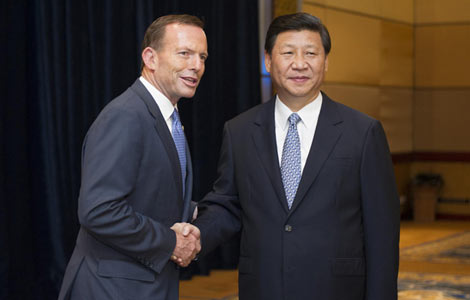 2013-10-07
President Xi Jinping and Australian Prime Minister Tony Abbott agreed to push forward bilateral ties.
2013-10-06
China sees Indonesia as one of its most important partners among the ASEAN countries, said an expert in regional trade relations.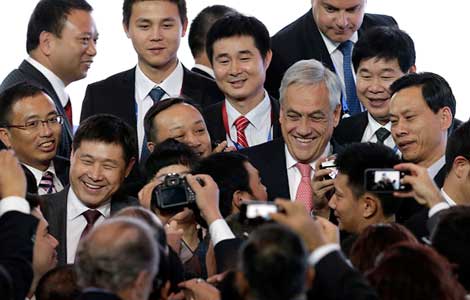 2013-10-06
Beijing on Sunday called on Bangkok, the current cordinator between China and ASEAN, to play a positive role in deepening trust and cooperation between China and ASEAN as President Xi Jinping met Thai Prime Minister Yingluck Shinawatra.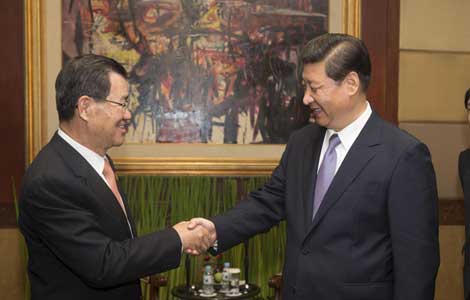 2013-10-06
Political disputes between the Chinese mainland and Taiwan could be gradually and eventually resolved, Party chief Xi Jinping said.
2013-10-06
Chinese President Xi Jinping and Thai Prime Minister Yingluck Shinawatra pledged to further bilateral ties and China's relations with ASEAN.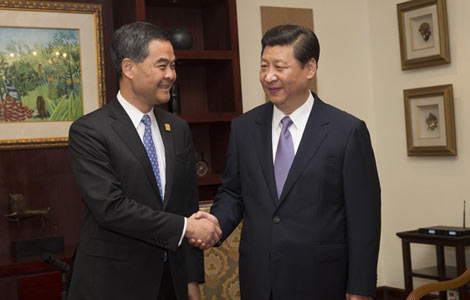 2013-10-06
President Xi Jinping said that the central government's stance of supporting Hong Kong's economic prosperity and social stability is consistent and firm.
2013-10-06
Indonesian President Susilo Bambang Yudhoyono and his Mexican counterpart Enrique Pena Nieto witnessed on Sunday the signing of agreements on cooperation in several sectors aimed at enhancing bilateral relations between the two nations.
2013-10-06
Centered on a booming travel industry, the Asia Pacific Economic Cooperation (APEC) economies could create 2.6 million more jobs and generate an impressive $89 billion in earnings by 2016 by promoting visa facilitation, a study released on the sidelines of APEC said on Sunday.
2013-10-06
The Chinese mainland's Taiwan affairs chief Zhang Zhijun said Sunday that he welcomes Wang Yuqi, Taiwan's top official on Chinese mainland affairs, to visit the mainland at a proper time.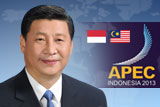 Thoughts after hearing Xi's speech
I was very happy to see that Xi Jinping did focus on trade and on the importance of Asia Pacific trade being cooperative and inclusive.