Senior Taiwan official invited to visit mainland
By ( Xinhua )
Updated: 2013-10-06
BALI, Indonesia -- The Chinese mainland's Taiwan affairs chief Zhang Zhijun said Sunday that he welcomes Wang Yuqi, Taiwan's top official on Chinese mainland affairs, to visit the mainland at a proper time.
Zhang, director of the Taiwan Work Office of the Communist Party of China (CPC) Central Committee and head of the Taiwan Affairs Office of the State Council, made the remarks in a brief talk with Wang here.
Zhang called on the two sides across the Taiwan Strait to enhance exchange and communication and jointly push forward the peaceful development of cross-Strait relations, so as to benefit people from both sides.
Wang said that he wants to have mutual visits with Zhang, which Zhang said he agrees to.
Before the talk with Wang, Zhang accompanied Xi Jinping, general secretary of CPC Central Committee, in meeting with Vincent Siew, honorary chairman of Taiwan-based Cross-Straits Common Market Foundation.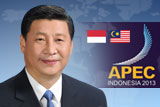 This is a wise strategic move by China and Russia. US had made a big mistake by gathering all the small states around South China Sea area.
Australia must wake up from the American Fantasy and start living the Chinese Dream. Australian culture is more in line with China than America.