2013-10-07
Beijing and Seoul on Monday pledged to push forward free trade negotiations to upgrade cooperation, as President Xi Jinping met with Republic of Korea President Park Geun-hye on the sidelines of the APEC summit.
2013-10-07
Asia-Pacific economies will count on enhanced regional connectivity to stimulate trade and attract investment as the member countries seek decisive measures to improve regional economic integration, industry experts say.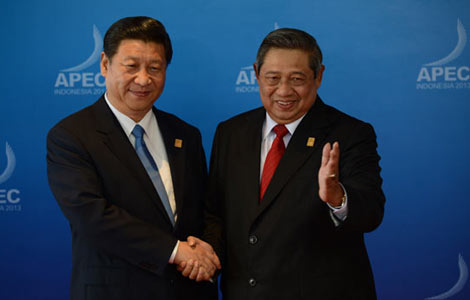 2013-10-07
The Chinese economy remains on track despite a recent slowdown, and the country is taking measures to guard against both internal and external risks, President Xi Jinping told top company executives attending the APEC summit in Indonesia on Monday.
2013-10-07
President Xi Jinping warned on Monday against a world trade regime fragmented by various free trade arrangements, calling for determination to conclude the long-stalled Doha Round of global trade talks.
2013-10-07
APEC host Indonesia has reiterated its unwillingness to join the Trans-Pacific Partnership (TPP) agreement being negotiated, but conceded that the country will closely observe steps taken by China, an official said on Monday.
2013-10-07
Chinese President Xi Jinping on Monday urged China and South Korea to actively push forward the negotiations on a bilateral free trade agreement.
2013-10-07
President Xi Jinping said on Monday that his country will stick to the denuclearization of the Korean Peninsula and safeguard its peace and stability.
2013-10-07
Australia is confident of securing a free-trade agreement with China in a year, Australian Prime Minister Tony Abbott confirmed at a press conference during the ongoing APEC Summit on the Indonesian resort island of Bali on Monday.
2013-10-07
The 21st informal economic leaders' meeting of the Asia-Pacific Economic Cooperation (APEC) kicked off in Bali, Indonesia on Monday, with sustainable growth and regional cooperation high on the agenda.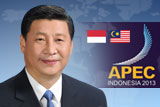 Thoughts after hearing Xi's speech
I was very happy to see that Xi Jinping did focus on trade and on the importance of Asia Pacific trade being cooperative and inclusive.