TPP challenges focused on at APEC
( Xinhua )
Updated: 2013-10-07
BALI, Indonesia -- APEC host Indonesia has reiterated its unwillingness to join the Trans-Pacific Partnership (TPP) agreement being negotiated, but conceded that the country will closely observe steps taken by China, an official said here on Monday.
TPP governments are seeking to push ahead with crucial discussions during the Asia Pacific Economic Cooperation (APEC) meetings currently being held in Bali.
TPP builds on the Trans-Pacific Strategic Economic Partnership Agreement (P4) between Brunei Darussalam, Chile, New Zealand and Singapore, which entered into force in 2006. TPP includes the P4 Parties as well as Australia, Canada, Japan, Malaysia, Mexico, Peru, the USA and Vietnam.
Proponents are upbeat about the inclusion of Investment and Financial Services chapters in TPP that could provide improved opportunities for signatories financial service providers by mitigating barriers, such as foreign restrictions on capital and investment flows. TPP also provides a framework for engaging with countries with which members do not have an existing bilateral trade arrangement.
However, its detractors are concerned with lack of transparency in negotiations and changes to laws of countries should they sign.
If the negotiations are successful, TPP would link an area with about 28 trillion US dollars in annual economic output and cover over 790 million people.
Malaysia's Prime Minister Najib Razak has told media that the end of 2013 deadline is a "very tight time line" and leaders will discuss if it is feasible.
Meanwhile, US Trade Representative Michael Froman insisted at a media conference that the "finish line is in sight" and TPP officials are trying very hard to complete the deal this year.
Dampening this enthusiasm, Indonesia's Foreign Minister Marty Natalegawa was emphatic that his government would not change its mind on not joining the TPP.
"At present we are still determined, in line with the spirit of the centrality of Southeast Asian Nations (or ASEAN) to put the highest priority on the ongoing process in the regional comprehensive partnership (RCEP)," he noted.
Nonetheless, Indonesia will keep a close eye on China's response to TPP to ensure "country interests are not neglected".
In late May, China's Commerce Ministry revealed that it would assess the possibility of taking part in the talks for the pact and analyze the pros and cons at home based on research and the principles of equality and mutual benefit.
The announcement reflected a shift of China's stance, which earlier preferred the RCEP regional trade pact set to be completed in 2015, which groups ASEAN and its six major trading partners, over TPP.
Japan's decision to join the TPP may also encourage China to get on board, say analysts.
US Commerce Secretary Penny Pritzker speaking to media on the sidelines of APEC also acknowledged that a 2013 deadline for TPP was "ambitious", but insisted that global economic challenges called for pushing ahead with trade agreements.
However, despite the challenges faced by TPP, ministers of APEC during their meetings on Friday and Saturday did agree to roll back protectionist policies to work towards stronger integration and investment in the region.
"We reaffirmed our commitment to keep markets open and to refrain from raising new barriers to investment or to trade in goods and services, imposing new export restrictions, or implementing World Trade Organization (WTO)-inconsistent measures in all areas, including those that stimulate exports," the ministers said in a joint-statement.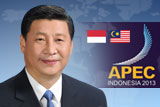 Thoughts after hearing Xi's speech
I was very happy to see that Xi Jinping did focus on trade and on the importance of Asia Pacific trade being cooperative and inclusive.