2013-10-06
Pacific Rim countries pledged to mobilize scientific and technical expertise toward formulating solutions and establishing best practices for sustainable development here on Sunday during APEC meetings, officials said here.
2013-10-06
Indonesian President Susilo Bambang Yudhoyono called for here on Sunday all governments and stakeholders to work in partnership to promote sustainable growth with equity.
2013-10-06
Xi Jinping, general secretary of the CPC Central Committee, Sunday stressed that the two sides across the Taiwan Straits should stick to the correct path of peaceful development of the cross-Strait relations.
Senior Taiwan official invited to visit mainland
2013-10-06
The two-day APEC ministerial meeting concluded here Saturday calling for joint efforts in advancing the three priorities set up to ensure robust economic growth and resilience in Asia Pacific region.
2013-10-05
More than 1,000 policy makers and business delegates around the Pacific Rim commenced their annual meeting here Saturday amid an unstable global economic recovery.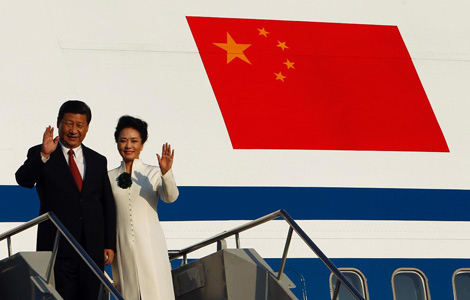 2013-10-05
President Xi arrived in the Indonesian resort island of Bali to attend the 21st informal economic leaders' meeting of the APEC.
2013-10-05
Chinese President Xi Jinping said here on Saturday that his country is committed to further deepening its good-neighborly and friendly ties with Malaysia.
2013-10-05
World leaders gather in Bali for the Asia Pacific Economic Cooperation (APEC) meetings despite the absence of US President Barack Obama, with inclusive trade poised to take a lead role due to increased lobbying by host Indonesia.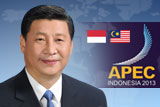 Thoughts after hearing Xi's speech
I was very happy to see that Xi Jinping did focus on trade and on the importance of Asia Pacific trade being cooperative and inclusive.