China pledges to boost friendly ties with Malaysia
By ( Xinhua )
Updated: 2013-10-05
KUALA LUMPUR - Chinese President Xi Jinping said here on Saturday that his country is committed to further deepening its good-neighborly and friendly ties with Malaysia.
China and Malaysia share wide-ranging common interests, have similar process of development, and their mutually beneficial cooperation enjoys broad prospects, said Xi in a meeting with former Malaysian Prime Minister Mahathir Mohamad.
Citing the example of renowned Chinese navigator Zheng He who visited Malacca, now a historical city of Malaysia, for five times over 600 years ago, Xi noted that Zheng's great voyage has become a much-told story in the history of friendly exchanges between the two countries.
China will unswervingly follow the path of peaceful development and be committed to boosting its good-neighborly and friendly ties with Malaysia, said Xi.
Feeling the strong desire of Malaysians to strengthen cooperation with China during his visit, the Chinese leader vowed to support people from all walks of life in both countries to increase exchanges and cooperation.
Xi also noted that Mahathir, an old friend respected by the Chinese people, has made important contribution to the friendly cooperation between the two countries.
Also citing Zheng's story, Mahathir said the ancient Chinese navigator brought nothing but friendship to Malaysia with his big fleet.
Appreciating the peaceful development and good-neighborly policies of China, Mahathir said Malaysians are confident in the prospect of China's economy, and believe the Chinese people will surely achieve the great rejuvenation of their nation.
Pledging to dedicate himself to further promoting bilateral ties, Mahathir said Malaysia stands ready to develop a strong comprehensive strategic partnership with China and hopes that the two sides can benefit from each other's development.
The former prime minister also put forward his advice on the practical cooperation between the two countries, saying that the business community of Malaysia is working to build a "Zheng He Association," so as to boost bilateral trade and mutual investment.
Xi flew in from Indonesia on Thursday for a state visit to Malaysia, the second leg of his maiden Southeast Asia trip since he assumed presidency in March, which will also take him to the Indonesian resort island of Bali for the 21st informal economic leaders' meeting of the Asia-Pacific Economic Cooperation (APEC).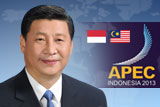 Australia must wake up from the American Fantasy and start living the Chinese Dream. Australian culture is more in line with China than America.