China and ASEAN to handle territorial issues like friends
By Kani (Malaysia) ( bbs.chinadaily.com.cn )
Updated: 2013-10-04
Welcome to join us at the China Daily forum for further discussions.
China and its neighbours should handle the issue of territorial claims as a problem between friends rather than a conflict with one another.
The development of China means a big market for Malaysian products and investments from China, but China also needs to assure its ASEAN friends that it won't become aggressive or assertive because of its development.
Chinese president's maiden visit to Southeast Asia will hold great significance for China-Indonesia, China-Malaysia ties.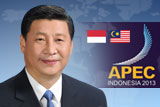 China should increase investment in ASEAN
China should ratchet up cooperation with Association of Southeast Asian Nations countries to expand Beijing's regional influence while countering Washington's Asia-Pacific pivot strategy.