China should increase investment in ASEAN
By Jamie (Canada) ( bbs.chinadaily.com.cn )
Updated: 2013-10-03
Welcome to join us at the China Daily forum for further discussions.
China should ratchet up cooperation with Association of Southeast Asian Nations countries to expand Beijing's regional influence while countering Washington's Asia-Pacific pivot strategy.
The essence of China-ASEAN relations is cooperation rather than island disputes. Hyping the South China Sea issue has increasingly become a distraction, and is not helpful to ASEAN solidarity.
China should increase investment, both in quantity and quality, among the ASEAN economies, because the region closely relies on China's economic vitality.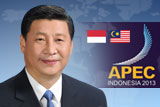 Xi makes a historic trip to the land where countless generations of Chinese have emigrated to, settled down, and melded into.