Territorial disputes remain an obstacle
By vincent01(Shanghai) ( bbs.chinadaily.com.cn )
Updated: 2013-10-03
Welcome to join us at the China Daily forum for further discussions.
The territorial disputes remain an obstacle in Sino-ASEAN relations. How China decides to pursue its territorial and resource claims vis-à-vis ASEAN claimants will be a litmus test of China's attitudes towards ASEAN and its perception of its emerging role as the big power of the region. To a lesser extent, relations may also be negatively affected by internal problems involving treatment of ethnic Chinese minorities, especially in Indonesia and Malaysia.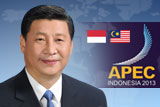 Xi makes a historic trip to the land where countless generations of Chinese have emigrated to, settled down, and melded into.
ASEAN members take lead from Indonesia being the largest of them all in many ways. China's relationship with it must get better.