Chinese, Australian leaders pledge to boost ties
( Xinhua )
Updated: 2013-10-07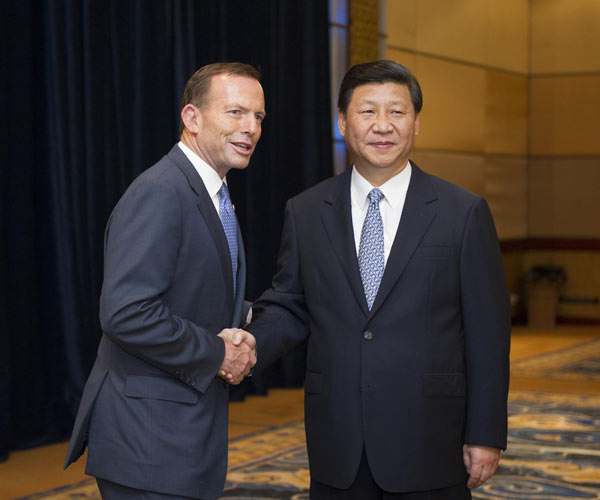 Chinese President Xi Jinping meets with Australian Prime Minister Tony Abbot on Sunday on Sunday on the Indonesian resort island of Bali.[Photo/Xinhua] 
BALI, Indonesia - Chinese President Xi Jinping and Australian Prime Minister Tony Abbott agreed here on Sunday to push forward bilateral ties and speed up free trade negotiation.
China and Australia are both major countries in the Asia-Pacific region, said Xi in a meeting with Abbott. "Their close cooperation would not only serve the fundamental interests of both countries, but also contribute to regional and world peace and development," he said.
Xi and Abbott were on Indonesia's resort island of Bali for the 21st informal economic leaders' meeting of the Asia-Pacific Economic Cooperation (APEC) slated for Monday and Tuesday.
Noting that China has always treated and worked to strengthen China-Australia ties from a strategic height and long-term perspective, Xi said his country is ready to work with Australia to deepen their strategic partnership and make their ties a fine model of harmonious coexistence and win-win cooperation between countries of different social systems, history, culture and at different development stages.
China and Australia should consolidate "four bonds" in bilateral ties, said Xi.
The first bond is mutual trust. Both sides should respect each other's core interests and major concerns, objectively and rationally view each other's strategic intentions, achieve common progress amid inclusiveness and mutual learning, and seek win-win results through deepening cooperation, said Xi.
The second bond is economy and trade. Both countries should make efforts to achieve early and substantive progress of bilateral free trade agreement (FTA) talks, said Xi, adding that they can also expand cooperation in traditional areas such as energy and resources while exploring new cooperation areas such as infrastructure, information technology, energy conservation and environmental protection.
The third bond is people-to-people exchanges. China and Australia should strengthen exchanges in education, culture and between the two countries' youth, so as to deepen mutual understanding and friendship, said Xi.
The fourth bond is security. The two countries should continue to enhance military exchanges through their strategic defense consultation and navy visits, he added.
On regional cooperation, Xi said the Asia-Pacific region has maintained overall political stability, economic vitality and vibrant regional cooperation.
Countries in the region should focus on development and economic growth, said the Chinese president.
China and Australia may strengthen communication, coordination and cooperation through diplomatic and strategic dialogue mechanisms, said Xi, adding that his country stands ready to work with Australia to play a constructive role in ensuring that the upcoming APEC meeting would achieve its goals.
Abbott, for his part, said China's rise is a blessing to the world, not a challenge.
Australia's prosperity has benefited from cooperation with China, said Abbott, pledging to stay committed to boosting the "four bonds" of mutual trust, economy and trade, people-to-people exchanges and security, in order to develop even more robust bilateral relations and be a good friend of China.
Australia is ready to speed up the FTA negotiations with China, and welcomes Chinese enterprises to invest in Australia, Abbott said.
Australia wishes to enhance cooperation with China within the frameworks of the Group of Twenty and APEC, he added.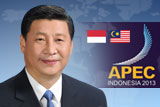 Thoughts after hearing Xi's speech
I was very happy to see that Xi Jinping did focus on trade and on the importance of Asia Pacific trade being cooperative and inclusive.