Xi pledges consistent, firm support to HK
By ( Xinhua )
Updated: 2013-10-06
Chinese President Xi Jinping (right) meets withLeung Chun-ying, chief executive of the Hong Kong Special Administrative Region (SAR),on Sunday ahead of the APEC summit on the Indonesian resort island of Bali.[Photo/Xinhua]
BALI, Indonesia -- Chinese President Xi Jinping said on Sunday that the central government's stance of supporting Hong Kong's economic prosperity and social stability is consistent and firm.
Xi made the remarks when he met with Leung Chun-ying, Chief Executive of Hong Kong Special Administrative Region (HKSAR), ahead of the 21st informal economic leaders' meeting of the Asia-Pacific Economic Cooperation (APEC) in the Indonesian resort island of Bali, slated for Monday and Tuesday.
Xi fully endorsed the work of Leung and the HKSAR government.
The HKSAR government's governing principles of seeking change while maintaining stability and taking people's livelihood as priority, as well as their efforts in resolving housing, poverty alleviation, elder caring, environmental protection and economic development have been acknowledged by the Hong Kong citizens, Xi said.
Xi hoped that the HKSAR government will continue governing according to law and paying special attention to developing economy and improving people's livelihood.
Noting that China will host the APEC next year, and the HKSAR will hold the APEC finance ministers' meeting, Xi said the central government will communicate and coordinate with the HKSAR government on the issue.
Leung briefed Xi on recent situation in Hong Kong and the work of the HKSAR government in pushing Hong Kong's economic development and improving citizens' living standards. He also expressed gratitude for the support given by the central government to Hong Kong.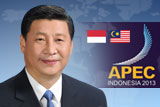 This is a wise strategic move by China and Russia. US had made a big mistake by gathering all the small states around South China Sea area.
Australia must wake up from the American Fantasy and start living the Chinese Dream. Australian culture is more in line with China than America.