Trade links with SE Asian power increasingly vital
By Li Fusheng ( China Daily )
Updated: 2013-10-06
China sees Indonesia as one of its most important partners among the ASEAN countries, said an expert in regional trade relations.
Trade between the two has developed rapidly since they resumed diplomatic relations in 1990, said Wu Chongbo, a professor specializing in Southeast Asian studies at Fujian-based Xiamen University.
Statistics show that bilateral trade between China and Indonesia hit $66.2 billion in 2012, a 9.4 percent increase over the previous year.
Of the amount, China's imports stood at $20.86 billion, accounting for approximately 15 percent of Indonesia's total exports and making China the Southeast Asian country's largest export destination.
In addition to expanding trade, Indonesia is attracting more and more Chinese investment over the past few years.
In 2012, China's direct investment in Indonesia reached $2.12 billion, more than double the figure in 2010.
Also, two of China's four State-owned banks — Bank of China and the Industrial and Commercial Bank of China — have established branches in the Southeast Asian country.
Wu said China Development Bank and The Export-Import Bank of China will follow their footsteps to provide "the capital Indonesia's infrastructure construction requires".
Wu expects the government will continue investing heavily in the sector in the following five years. By the end of 2010, more than 1,000 companies had made investments with a combined value of $6 billion, mostly in such sectors as infrastructure and energy.
One of the contractors, China Harbour Engineering Company Ltd, is building the expressway at the Medan airport, and Shanghai Construction Group has won the bid to build the Bandung expressway.
"The extensive investment has not only boosted Indonesia's economic development but also created some 30,000 jobs for locals," Wu said.
Chinese Tourists
Also, Chinese visitors are helping boost Indonesia's tourism industry, the third-largest contributor to the country's GDP, Wu said.
The country has seen a growing influx of Chinese tourists in the past years. Statistics show that 618,000 Chinese visited Indonesia in 2012, a 20.64 percent rise from the previous year.
Excited at the surge, local tourism authorities have vowed to attract 1 million Chinese visitors in 2014 by adopting such measures as facilitating currency exchange, improving hotel reservations and increasing the number of flights between the two countries, Wu said.
In 2008, central banks of the two countries signed a bilateral currency swap agreement that has a value of 100 billion yuan ($16.33 billion).
Wu said the agreement will fuel Indonesian economy by boosting bilateral trade, and also help stabilize the Indonesia Rupiah. "If violent disturbances occur in the financial market, the Indonesian central bank will have more funds to cope with the crisis."

lifusheng@chinadaily.com.cn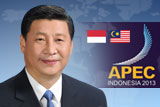 This is a wise strategic move by China and Russia. US had made a big mistake by gathering all the small states around South China Sea area.
Australia must wake up from the American Fantasy and start living the Chinese Dream. Australian culture is more in line with China than America.