China calls on APEC to promote FTA integration
By ( Xinhua )
Updated: 2013-09-30
BEIJING - China hopes the upcoming APEC summit will promote trade liberalization, facilitation and integration of multiple free trade agreements (FTA) in Asia and the Pacific, a senior official said here on Sunday.
The 21st economic leaders' meeting of the Asia-Pacific Economic Cooperation (APEC) forum will be held in Bali, Indonesia, from October 7 to 8. President Xi Jinping will attend the meeting.
Deputy China International Trade Representative Yu Jianhua said at a press conference that China hopes the APEC summit will continue to support multilateral trade and oppose all protectionism.
China hopes the economies in FTA negotiations will adhere to principles of openness, inclusion and transparency and show flexibility to economies of different levels, Yu said, noting that China holds an open attitude to all regional cooperation mechanisms in Asia and the Pacific.
He said China is ready to work against the emergence of new trade barriers while promoting the eradication of traditional trade barriers.
China hopes the APEC forum will play an incubator role for communication and integration of multiple free trade zones in Asia and the Pacific so as to create conditions for a whole Asia-Pacific FTA.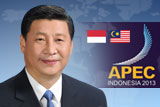 ASEAN members take lead from Indonesia being the largest of them all in many ways. China's relationship with it must get better.