President Xi vows to deepen reform, opening-up
( Xinhua )
Updated: 2013-10-08
BALI, Indonesia - Chinese President Xi Jinping said here Monday that his country will deepen reform and opening-up in all respects, as Chinese economy has entered a new stage of development.
Xi made the remarks while addressing an Asia-Pacific Economic Cooperation (APEC) CEO Summit on the Indonesian resort island of Bali.
"China is drawing up a master plan for the deepening of reform in all respects," said Xi, adding that challenges cropping up in development and institutional obstacles will be targeted, so as to create new impetus to economic development through reform in a balanced manner.
To overcome those challenges and obstacles, China will improve its basic economic system, reform the administration system and enhance innovation capability, Xi noted, pledging to promote social equity and justice.
Also in his speech, the president said that China will follow a more proactive opening-up strategy, which underlines balance in foreign trade, a legal environment in which foreign companies in China can operate in a level playing field, and overall planning for global and regional opening-up and cooperation, among others.
Xi's speech came against the backdrop of concerns over the slowdown of the Chinese economy, which has decreased from the previous double-digit growth rates to 9.3 percent in 2011, 7.8 last year and 7.6 in the first half of this year.
Describing the fundamentals of the Chinese economy as good, Xi said that "everything has been going as expected and nothing has come as surprise."
He stressed that the slowdown in the speed is an intended result of China's own regulatory initiatives.
Comparing reform to a profound revolution, the Chinese leader admitted that the problems facing China at the current stage "are especially difficult."
"They are hard nuts to crack, so to speak. It is extremely important that we press ahead without ever letting up," said Xi, vowing to take prudent and proper measures to forestall any potential problems.
After wrapping up his state visits to Indonesia and Malaysia, the Chinese president arrived in Bali on Saturday afternoon to attend the APEC meeting, his first appearance at the summit since taking over the presidency in March.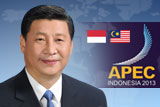 Thoughts after hearing Xi's speech
I was very happy to see that Xi Jinping did focus on trade and on the importance of Asia Pacific trade being cooperative and inclusive.