Chinese and Russian presidents meet for fifth time this year
By Wu Jiao in Bali, Indonesia ( chinadaily.com.cn )
Updated: 2013-10-08
China and Russia said Monday that they will jointly commemorate the 70th Anniversary of the Victory of the World Anti-Fascism War in 2015.
The decision was announced when Chinese President Xi Jinping met the Russian President Vladimir Putin in an Indonesian resort on the sidelines of the Asia-Pacific Economic Cooperation summit.
China and Russia have made great sacrifice and contribution to the World Anti-Fascism War, and the two sides will stage memorial activities to commemorate the history, which will carry far-reaching significance, according to a news release by the Chinese foreign ministry after the talks in Monday evening.
It is the fifth time that the two leader meet within the year. Xi paid a state visit to Russia soon as he took the presidency in March and the two had met three times along regional summits after that.
During the meeting, Xi said 2013 marks "a year of harvest" for bilateral tie as two countries have achieved abundant cooperation in various fields.
"China and Russia have extensive common interests in the Asia Pacific, and China is ready to strengthen coordination and cooperation with Russia to jointly preserve regional security and prosperity," Xi told his Russia counterpart.
Putin said the development of bilateral ties has a broad future.
"I am willing to continue to keep intimate friendship as well as close contacts with President Xi, and further advance practical cooperation in every sectors", Putin was quoted as saying in the news release.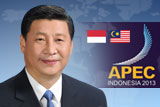 Thoughts after hearing Xi's speech
I was very happy to see that Xi Jinping did focus on trade and on the importance of Asia Pacific trade being cooperative and inclusive.