China to promote beneficial co-op with ASEAN
( Xinhua )
Updated: 2013-10-08
BEIJING - China is ready to promote mutually beneficial cooperation with ASEAN during the upcoming East Asia leaders meetings, Vice Foreign Minister Liu Zhenmin said Monday.
Liu made the remarks at a Foreign Ministry press briefing ahead of Chinese Premier Li Keqiang's official visit to Brunei, Thailand and Vietnam as well as his attendance to the East Asia leaders meetings.
Li will make the three-leg Southeast Asia trip from October 9 to 15 at the invitation of Brunei Sultan Hassanal Bolkiah, Thai Prime Minister Yingluck Shinawatra and Vietnamese Prime Minister Nguyen Tan Dung.
During his trip to Seri Begawan, Li will attend the 16th China-ASEAN leaders meeting, the 16th ASEAN plus three (China, Japan and the Republic of Korea) summit and the 8th East Asia Summit to be held in Brunei, the chair nation of the Association of Southeast Asian Nations (ASEAN).
Liu said the Chinese premier will elaborate the country's foreign policy on relations with ASEAN during this year's China-ASEAN leaders meeting and express the position on cooperation on political security, economy and trade, interconnectivity, maritime affairs as well as social and cultural fields.
During the meeting Li will discuss the treaty of good-neighborliness between China and ASEAN, upgrade the free trade area between the two sides, prepare the establishment of the Asian infrastructure investment bank and advance their maritime cooperation, Liu said.
Liu noted that Li supports the role of ASEAN+3 in East Asia cooperation and calls for coordination of macro economic policy to improve the capacity in fighting crisis and upgrade the level of pragmatic cooperation among the countries.
Speaking of the 8th East Asia Summit, Liu said Li will promote dialogue and cooperation on economic and social security as well as political security with consideration of all sides' interests.
Liu said bilateral meetings between Li and some ASEAN members will be arranged alongside the East Asia leaders meetings. Meanwhile, he pointed out that there will be no bilateral meetings between Li and leaders of Japan and the Philippines.
As for Li's visits to Brunei, Thailand and Vietnam, Liu said he is confident that the visits will upgrade the ties between China and the three countries and will direct East Asia cooperation to mutually beneficial development.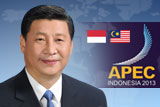 Thoughts after hearing Xi's speech
I was very happy to see that Xi Jinping did focus on trade and on the importance of Asia Pacific trade being cooperative and inclusive.