APEC leaders continue talks on development
( Xinhua )
Updated: 2013-10-08
BALI, Indonesia - Pacific Rim leaders continued their discussions Tuesday with focus on improving connectivity during retreat sessions at the ongoing APEC leaders' meeting.
Following the leaders' first retreat session at which APEC's role in strengthening the multilateral trading system in the current global economic situation was discussed, the second retreat session concentrates on APEC's vision of connectivity in the evolving regional and international architecture.
"To seize the opportunities, our region needs to be more interconnected and interlinked," remarked Indonesian president Susilo Bambang Yudhoyono at the first retreat session.
He called for building better connectivity to make people reap more benefits of the region's economic growth.
According to the IMF, APEC, as a group, is expected to grow by 6.3 percent in 2013 and 6.6 percent in 2014. The GDP growth in the APEC region is forecast to increase from 4.2 percent in 2013 to 4. 7 percent in 2014.
Chinese President Xi Jinping, who also showed up at the summit, has warned against a world trade regime fragmented by various free trade arrangements, calling for determination to conclude the long- stalled Doha Round of global trade talks.
The 21-member APEC boasts around half of the world's economic output and trade and remains the world's growth engine despite downward trend in developing economies.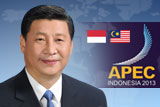 Thoughts after hearing Xi's speech
I was very happy to see that Xi Jinping did focus on trade and on the importance of Asia Pacific trade being cooperative and inclusive.