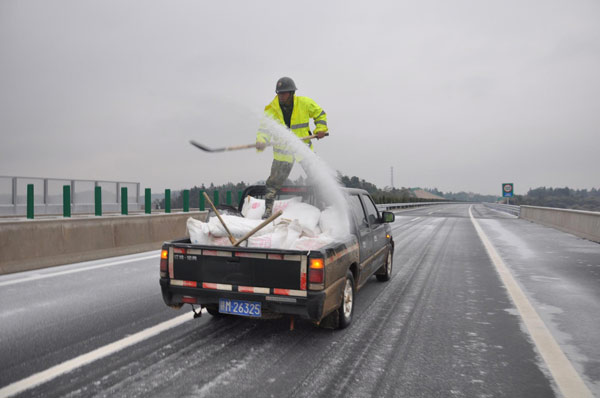 A workers sprays a type of products to accelerate the snow melting on a highway in Fuzhou, East China's Jiangxi province, Jan 4, 2013. [Photo/Xinhua]
NANCHANG - Provinces are dispatching traffic police, canceling flights and suspending bus transportation as snow and icy rain persists in south and east China Friday.
Snow and icy rain pelted Chinese provinces of Hunan, Jiangxi, Anhui, Zhejiang and Guangxi Zhuang Autonomous Region, a National Meteorological Center of China statement said.
The center predicted the inclement weather would continue for the next ten days. It has asked authorities in the affected regions to be on alert for disruptions in transportation, agriculture and people's livelihoods.
In Guangxi in south China, several passenger bus routes passing the region's northern mountainous areas were suspended after roads there were reported to be covered with ice. Local authorities said they have beefed up patrols on the ice-coated roads to ensure safety.
Snow has caused a number of highway accidents in east China's Jiangxi Province, bringing traffic to a halt and stranding passengers.
In the Fengcheng section of the Nanchang-Zhangshu Highway, local residents were selling instant noodles and drinks to drivers and passengers stranded in a queue five kilometers long due to a pile-up involving three trucks.
"I didn't expect such a situation, so I've brought no warm coats or food. All I can do now is wait," said truck driver Yao Xuefeng.
The provincial meteorological station of Jiangxi said a total of 72 counties and districts in the province had seen snow as of 11 a.m., with eight of them covered with more than 5 cm.
Jiangxi's traffic authorities said traffic on certain expressways had not resumed, and workers were de-icing and using shovels to clear the roads of snow.
The provincial meteorological station said the cold weather, which has driven temperatures down by 4 to 6 degrees Celsius, will likely last until Sunday.
Public heating is not provided in Jiangxi, as its winter is usually mild and short. This year's cold snap, however, has reminded locals of severe weather in 2008 that wreaked havoc and resulted in heavy economic losses.
East China's Zhejiang Province has also been battered by overnight snow.
At Xiaoshan International Airport in Hangzhou City, 20 flights were delayed, eight canceled and 32 inbound flights diverted to other airports on Thursday. The delayed fights did not resume until 3:40 a.m. on Friday.
The airport planned to have 440 take-offs and landings on Friday. However, fewer than 150 take-offs and landings had happened by 2 p.m..
The airport authority said if the snow continues, the airport will probably close.
Traffic in central China's Hunan Province has also been disrupted by heavy snow.
The snowfall has forced the closure of some sections of the Beijing-Hongkong-Macao Expressway in the province, according to the provincial traffic department.
Additionally, more than 140 flights have been delayed from Huanghua Airport in Changsha, capital of the province.