China Daily reporter Zhao Lei watches the countryside hurtle past as he travels in comfort and style on the world's longest high-speed rail link.
The train left Beijing, with patches of snow dotting the capital, at 9 am on Wednesday before it whizzed past green rice fields when it crossed the Yangtze River four hours later. At 5 pm, it arrived in flower-dotted, subtropical Guangzhou, where the temperature was 20 C higher than in Beijing when the trip began.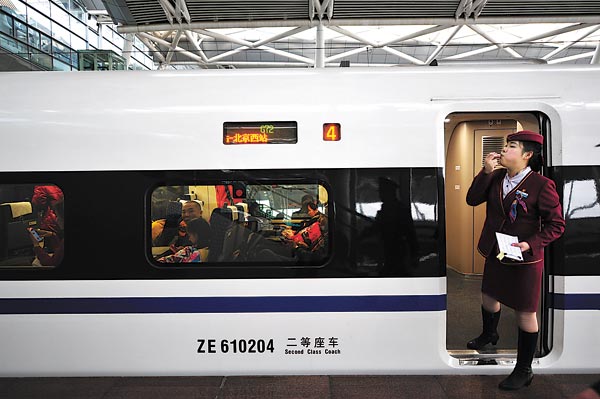 In a throwback to another era, an attendant whistles for passengers to board the high-speed train for Beijing at Guangzhou South Railway Station on Wednesday. The train was set for its maiden journey on the world's longest high-speed track. [Ke Xiaojun / China News Service] More photos
The world's longest high-speed rail link, connecting Beijing and Guangzhou, the capital of Guangdong province, became fully operational on Wednesday.
The 2,298-km line cuts the journey time from more than 20 hours to around eight and connects 28 cities, including five provincial capitals.
The designated speed of the route is 350 km/h, although the initial operating speed is around 300 km/h.
Fifteen minutes after the bullet train departed from Beijing West Railway Station, the speedometer hit 300 km/h and the speed was maintained for almost the entire journey, the exception being the section between Xuchang in Henan province and Hengdian in Hubei province, because of heavy snow.
The CRH380A(L) train, which is in service on the new line, has undergone extensive tests around the country, so its reliability is assured, said Wu Donghua, a senior engineer at CSR Sifang Co, one of China's biggest manufacturers of bullet trains.
The train's internal temperature was maintained at a comfortable level, with a low of 18 C.
The train is equipped with special washrooms for the disabled and can serve four different types of cuisine.
Related:
How the new high-speed railway came on track
Photos: High-speed rail ready for travelers
Longest high-speed rail line takes smooth test run
Tickets for new bullet train route selling fast
Xi'an prepares for Beijing-Guangzhou high-speed rail
Beijing-Guangzhou high-speed tickets now on sale