BEIJING - A photo of Xi Jinping released Sunday by Xinhua shows the general secretary of the Central Committee of the Communist Party of China (CPC) accompanying his mother Qi Xin for a walk.
Both plainly dressed, Xi holds the right hand of his mother, who is going to be in her 90s.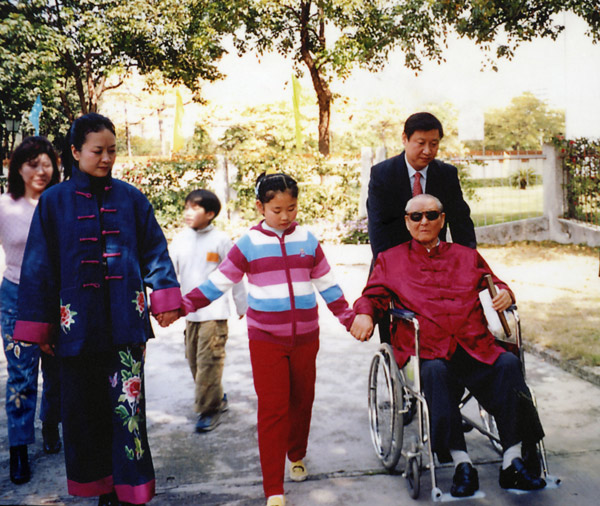 File photo shows Xi Jinping (R, rear) with his father Xi Zhongxun (R, front), his wife (L, front) and his daughter (C, front). [Photo/Xinhua]
In another picture, Xi's family is outside, with Xi pushing his father's wheelchair while his wife and daughter walk alongside.
Although a son of Xi Zhongxun, a Communist revolutionary and former vice-premier, Xi Jinping grew up with a frugal lifestyle.
When Xi was a child, he usually wore his sisters' hand-me-down clothing and shoes.
A picture taken in August 1987 shows Xi and his wife Peng Liyuan posing for a photo on Dongshan Island in Southeast China's Fujian province.
Peng, a celebrated Chinese folk singer, has described her husband as a "responsible" husband and father.
She said Xi is unique but also an ordinary man in some ways, who likes swimming and mountain climbing, loves to watch basketball, football and boxing on TV and sometimes stays up late to watch sports games.
The couple have a daughter named Xi Mingze, whom they hope will live an honest life and make a contribution to society.
Another picture shows Xi joyously taking his young daughter for a bicycle ride when he worked in Fuzhou, the capital of Fujian.