Japan's incoming Prime Minister Shinzo Abe will send a special envoy to China, media reports said, amid tension over the Diaoyu Islands.
Beijing blasted controversial provisions on Sunday in a defense bill passed by the US Senate, which acknowledges "the administration of Japan" over the islands and urges arms sales to Taiwan.
Observers said that Abe's gesture does not mean any concessions on the islands are in the offing.
The bill passed in the US Senate, they added, will fuel regional instability and damage trust-building efforts between China and the US.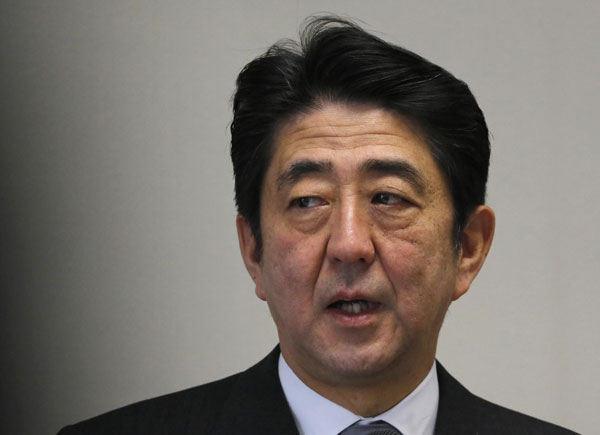 Shinzo Abe, Japan's incoming prime minister and the leader of Liberal Democratic Party (LDP), speaks during a meeting at the LDP headquarters in Tokyo December 20, 2012. [Photo/Agencies] 
Abe, leader of Japan's Liberal Democratic Party will become prime minister on Dec 26.
He is considering sending LDP Vice-President Masahiko Komura, head of the Japan-China Friendship Parliamentarians' Union, to China.
"Abe's envoy plan is simply posturing, rather than an act of sincerity,'' said Lu Yaodong, from the Institute of Japanese Studies at the Chinese Academy of Social Sciences.
Ties were soured in September after the Japanese government illegally "purchased" part of the Diaoyu Islands.
Abe declared on Saturday that he would postpone his campaign proposal of sending government personnel to the islands, Japan's Kyodo News Agency said.
The Japanese Air Self-Defense Force sent fighter jets on Saturday to an area some 100 kilometers north of the Diaoyu Islands after a plane of China's State Oceanic Administration was spotted patrolling, according to the Japanese Defense Ministry.
On Friday, Chinese marine surveillance vessels patrolling the waters around the islands found six Japanese coast guard ships illegally entering the area, and demanded they leave at once.
Special coverage: