Shinzo Abe, Japan's next prime minister, repeated his hawkish campaign rhetoric on Monday in what some observers called a performance that played to the gallery.
There was "no room for talks" on territorial disputes with China, Abe said at a news conference after his Liberal Democratic Party won a landslide victory in Sunday's general election.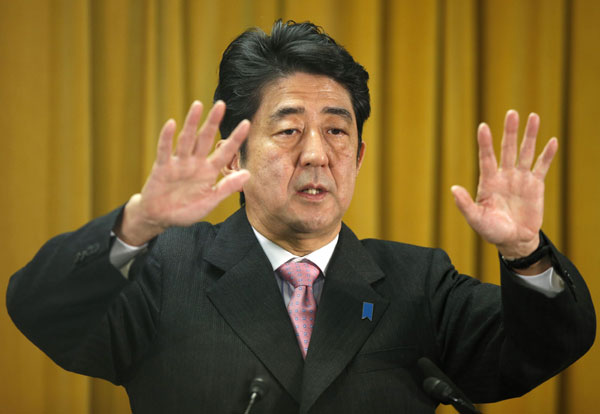 Liberal Democratic Party chief Shinzo Abe says at a news conference in Tokyo on Monday that he will not compromise on territorial issues. Abe is set to become Japan's next prime minister following his party's election victory on Sunday. Toru Hanai / Reuters
But, in an acknowledgement of how important China ties are, he also expressed his wish to improve relations.
Beijing urged Tokyo on Monday to mend relations damaged by tension over the Diaoyu Islands in the East China Sea.
Observers said Abe's tough words were just for show after the LDP secured a commanding majority - nearly 300 seats in the 480-member lower house.
Abe, the LDP chief, will become the next prime minister at a special session of the Diet, Japan's legislature, on Dec 26.
Relations with China are important and Abe said he hoped to improve them, though he ruled out visiting Beijing at this time.
Asked if he will visit Yasukuni Shrine, which honors Japan's war criminals, Abe said under the current diplomatic situation it is inappropriate to give a clear answer to that question.
He insisted the Diaoyu Islands were "Japan's inherent territory" and that there was "no room for talks" over their sovereignty.
The news conference was broadcast live in China.
Foreign Ministry spokeswoman Hua Chunying said on Monday that Beijing values ties and that the onus is on Tokyo to improve relations.
"China hopes Japan will reflect on, and properly handle, the current difficulty in relations," Hua said.
"We are highly concerned about which direction Japan will take," she said, reiterating Beijing's claim that the islands are part of China.
During the campaign, Abe vowed to increase defense spending and revitalize a security alliance with the United States that is widely thought to have drifted under current Prime Minister Yoshihiko Noda's administration.
He also wants to loosen the limits of a 1947 pacifist constitution on the military.
Special coverage:
Related stories:
Relations with China important for Japan: Abe
Abe 'must change' to build China-Japan ties
Abe anxious to curry favor with US
Obama congratulates Japan's Abe on election victory