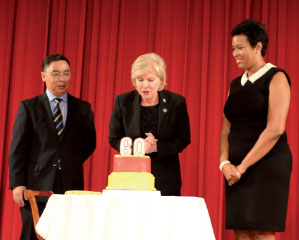 Mary Kane (center), president and CEO of Sister Cities International, blows out birthday candles marking the 60th anniversary of her organization at a reception at the Chinese embassy in Washington on July 15. Washington Mayor Muriel Bowser (right) and Minister Li Kexin of the Chinese embassy look on. The reception also featured photo shows and performances. Chen Weihua / China Daily
The relationship between China and the United States could often look depressing if people just read the headlines and listen to the rhetoric by US presidential candidates. But that clearly does not reflect the correct picture at the subnational level.
When Sister Cities International (SCI), a Washington DC-based non-profit organization, celebrated its 60th anniversary in a grand reception at the Chinese embassy on the evening of July 15, it displayed an important dimension of the bilateral relationship that rarely makes for sexy headlines.
Mary Kane, president and CEO of SCI, reminded the more than 400 participants from around the world of the story of one of its famous alumni, President Xi Jinping.

Xi first visited the US in 1985 at the age of 27, going to Muscatine, Iowa, under a sister-city relationship between Iowa and North China's Hebei province. He was then the head of Zhengding county in Hebei and went to Iowa on an agricultural research trip.
"They have been the strongest sister cities ever since," Kane said of the relationship between Hebei and Iowa, set up in 1983.
When Xi visited the US in February 2012 as China's vice-president, he returned to Muscatine to meet his old friends.
In September 2015, when Xi paid a state visit to the US as China's president, he first went to the state of Washington, and made a trip to Tacoma's Lincoln High School to talk to the students.
Tacoma has had a sister-city relationship with Fuzhou, in East China's Fujian province, since 1994. Xi was the Party secretary of Fuzhou in the early 1990s and later became the governor of Fujian province.
"But tonight we are here to sing Happy Birthday to Sister Cities International. It has been six decades, six wonderful decades of peace through people," Kane said.
Her words were followed by song, and a birthday cake soon was cut by her, Washington Mayor Muriel Bowser and Minister Li Kexin of the Chinese embassy.
The sister-city relationship has blossomed in the past four decades, with Chinese cities and provinces setting up 2,315 pairs of such relationships in 134 countries. That includes 258 with localities in the US.
Bowser, who took office in January 2015, talked about how her first international trip was leading a DC delegation to Beijing last November. Beijing and Washington established their sister-city tie in 1984.
"And I have to tell you that the mayor of Beijing, the Friendship Association, and all of the people in Beijing rolled out the red carpet for us," she said.
"We are very keen on our relationship, the wonderful relationship with the city of Beijing," she said.