The diplomatic wisdom of incoming US Secretary of State John Kerry is expected to improve China-US relations, as the Obama administration seeks to rebalance its Asian strategy during the president's second term.
President Barack Obama on Saturday nominated Senator Kerry, the son of a diplomat, as his next secretary of state to replace Hillary Clinton, and commentators say that given his track record and reputation, his appointment is almost certain to be confirmed.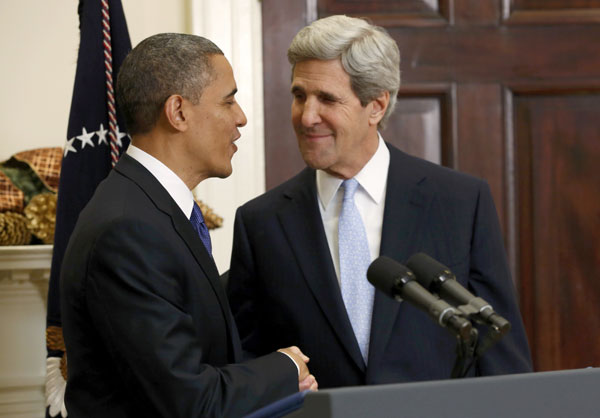 US President Barack Obama talks with US Senator John Kerry after nominating him as the next secretary of state on Friday in the White House in Washington. MANDEL NGAN / AGENCE FRANCE-PRESSE
Among the challenges facing Kerry will be to improve ties between China and the US, which have worsened since Washington's rebalancing policy in the Asia-Pacific region, experts said.
"China-US ties have deteriorated through a series of high-profile measures by the US aimed at rebalancing, especially the over-emphasis of military action, which triggered great antipathy from China," said Ruan Zongze, a US studies researcher and the deputy director of the China Institute of International Studies.
Kerry supported the Trans-Pacific Partnership trade agreement, to "balance China's economic influence in the region" in a speech at the Center for American Progress before President Hu Jintao's visit to the US in January 2011.
"Some called this intensified US engagement in Asia a hedging strategy, an insurance against the possibility of China emerging as a regional hegemony.
"Frankly, I don't care what we call it. I just think it makes sense that we ought to do it", he said then. During the address he appealed for maintaining a cooperative attitude toward China, rather than one that treated China as an enemy or the cause of US domestic problems.
"If China succeeds in rebalancing its economy, then the global economy will benefit and so will we," he said.
"If China fails — or worse, if we cut ourselves off from China in a misguided attempt to 'contain it' as some have suggested — then we will all suffer. And even though we can't call China an ally today, we simply cannot treat it as an enemy."