A leading Chinese human rights expert has called for Web users to remember their morals and for legal measures to be introduced to protect against privacy infringements online.
The Internet has become a channel for the public to participate in politics, and a platform for the authorities to publicize government affairs, Li Junru, vice-president of the China Society for Human Rights Studies, said on Wednesday.
However, morals and a legal framework are needed to curb problems such as personal data leaks, he said at the Fifth Beijing Forum on Human Rights.
The Internet has struck a deadly blow to hierarchy in politics and widened the public's freedom of expression, Li said.
He warned that the Internet can have negative effects and infringe human rights when it is used as a platform for rumors and allegations.
"These are not the problems with the Internet itself, but problems with the regulation of the Internet," he said.
The Fifth Beijing Forum on Human Rights, sponsored by the China Society for Human Rights Studies, this year centered on science and technology, the environment and human rights.
More than 120 human rights officials and experts from 32 countries are attending the three-day forum, which ends on Friday.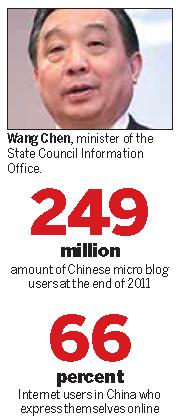 Wang Chen, minister of the State Council Information Office, said in an address to the forum that the Internet has changed people's work and lifestyles, and given new meaning to the notion of human rights.
He said China will continue to make efforts to improve human rights.
"The revised Party Constitution at the 18th National Congress of the Communist Party of China last month reiterated protection and respect for human rights and the need to develop a socialist democracy and political civilization. We will continue on this path," he said.
Wang admitted that China still faces some challenges in further improving people's livelihoods and human rights, but vowed that China will continue to make progress toward this goal.
Nina Karpachova, a member of the European Ombudsman Institute, said the UN should establish an international agency that can help set up an international legal framework that regulates global cyberspace because privacy infringement and personal data protection has increasingly become an international issue.
Li Yunlong, a professor from the Institute of International Strategic Studies at the Party School of the CPC Central Committee, said the popularity of the Internet has allowed freedom of speech at an unprecedented level.
Li's study cited a research report in 2011 that said China had 144 million users of online forums, 244 million users of social networking websites and 249 million users of micro blogs.
Data released by the State Council Information Office in 2010 showed Chinese people made more than 3 million posts online every day and more than 66 percent of users in China frequently used the Internet to express themselves.
"Chinese Internet news portals generally have functions that allow users to post their opinions after news pieces. As the users can choose to be anonymous, they can exchange their views freely and broadly," he said.
"The Internet has provided the Chinese public with quick access to news of politics. More importantly, with the large number of Internet users, it has also become an important tool for the public to supervise officials and the government," Li said.