BEIJING - China has listed 43 world heritage sites with the United Nations, the third-highest number in the world, an official said at a conference on the topic on Tuesday.
With more than 500 legal documents coming into play, China has established a legal system for cultural relics protection, said Li Xiaojie, director of the State Administration of Cultural Heritage at the event, held to mark 30 years since the country's first law for cultural relics protection was enacted.
In the past three decades, the Law on the Protection of Cultural Relics has laid the legal foundation and played an important role in the cause of cultural heritage, said Li.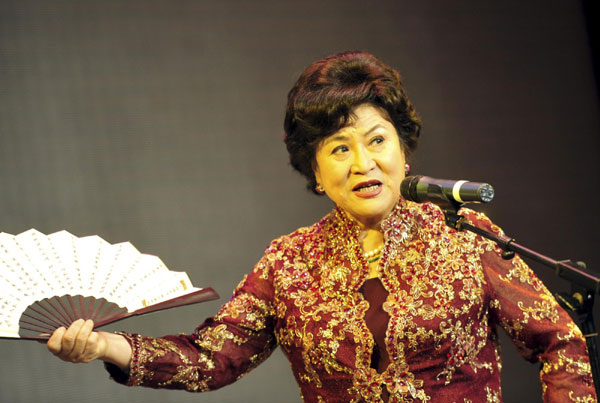 Renowned artist Liu Lanfang performs storytelling, one of typical Chinese folk art forms, in Jinan, East China's Shandong province on Dec 8, 2012. [Photo/Xinhua] 
He also provided a series of statistics related to China's government-backed cultural development. The number of museums around the country has added up to 3,415 as of 2012. Only Italy and Spain have more UN-recognized world-heritage sites than China, which is the only country to have successfully applied for heritage sites each year in the past decade.
Lu Yongxiang, vice chairman of the Standing Committee of the National People's Congress, called for more efforts to protect cultural relics.
Chinese experts have warned that many such items and sites are still not being protected and some are being destroyed in the process of urbanization. Some ancient tombs have been raided, and smuggling of antics has become quite common.
According to statistics from the latest national archaeological survey conducted from 2007 to 2011, China has more than 760,000 registered unmovable cultural relics and 2,384 state-owned museums with 28.6 million relics.
The survey also revealed that more than 40,000 unmovable relics have vanished in the past 30 years, with half of them destroyed by construction work.