Lu Jishu, a 32-year-old lecturer, was on a high-speed train from Suzhou to Shanghai when he received three text messages from his bank, notifying him that three online payments totaling 286 yuan ($46) had just been made from his account.
Lu's first response was to phone his wife and ask about her online purchases.
"A set of cutlery which was discounted, 40 percent off," said Yao Juan, Lu's wife, an avid online shopper.
Lu said this is a typical conversation with his wife, keeping him up to date with what his family has bought recently.
"Usually my wife browses the Internet, makes a purchase using my bank account and then asks me to pick up the parcels up from the guards when things are delivered to my office," Lu said.
Lu was not surprised to learn that he is one of thousands of men in China who have disclosed their online payment PIN to their wives.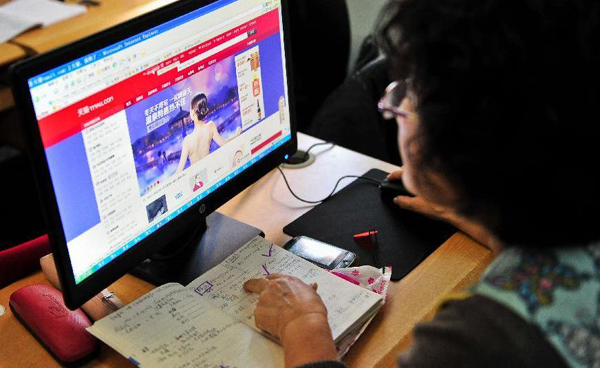 An elderly student follows the instructions on her notes as she practices online shopping at Tianjin Senior Citizens' University in North China's Tianjin municipality, in this Nov 23, 2012 file photo. [Photo/Xinhua]
A recent survey by China Internet Network Information Center of 2,300 people across the mainland found 65.4 percent of married women know their husbands' PIN number. About 71.9 percent also said they are the decision-makers for their family's online shopping.
"I don't bother shopping online so I let my wife handle these things," Lu said. "I know some male friends do the same because an online payment PIN is a sign of the family's good wealth management."
China's online retail market has seen significant growth in the past five years. In 2007, the value of the online retail market was about 54 billion yuan, which soared to 523 billion yuan in 2010. Last year, the number surged to 756 billion yuan, a 44 percent year-on-year growth.
On Nov 11 alone, the Chinese version of busy online shopping days Black Friday in the United States and Boxing Day in the United Kingdom, 19.1 billion yuan was spent on Tmall.com, one of China's major online shopping platforms.