World Wide Fund for Nature recruits animal lovers to stop poaching
Volunteer conservationists have organized a series of mountain patrols to prevent poachers from targeting wild Siberian tigers in Northeast China and make more people aware of the animal's plight.
The three-day project, organized by the China branch of the World Wide Fund for Nature, attracted people from across the country, including Shanghai and Fujian province.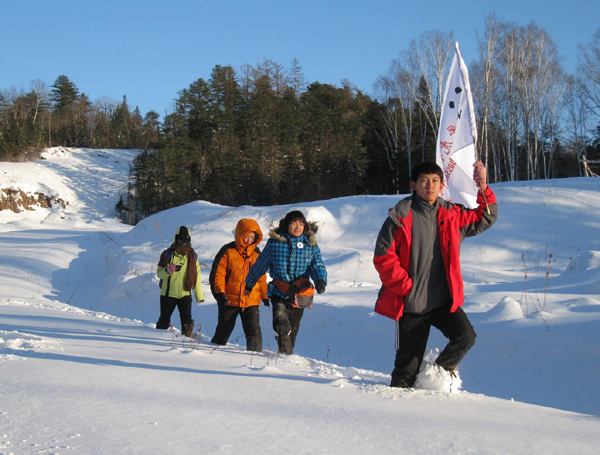 Volunteer conservationists from the China branch of the World Wide Fund for Nature patrol the Suiyang Siberian tiger protection zone in Heilongjiang on Wednesday. [Photo by Wu Yong / China Daily]
"We wanted the volunteers to learn more about the tigers through these activities and to make sure more people know about the importance of conserving wildlife and protecting the environment," said Liu Yi, who is with the fund's China tiger program.
The environmental group is a driving force behind the work being done to research and protect Siberian tigers in the wild. It has opened a branch dedicated to the pursuit of that mission in Changchun, capital of Jilin province.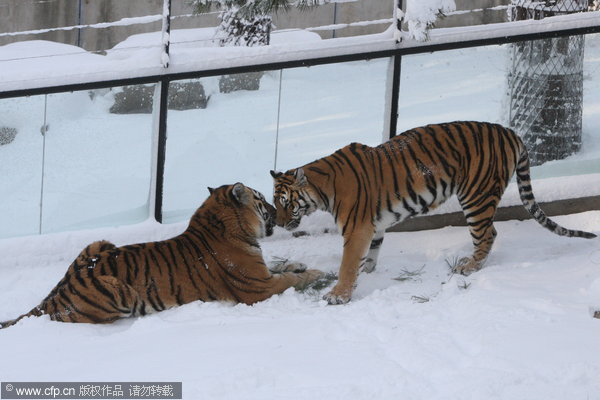 A pair of Siberian tigers have fun in the snow at a zoo in Yantai city, Shandong province on Dec 6, 2012.[Photo/CFP]
"I'd only seen tigers in newspapers or the zoo in the past," said Zuo Jian, who traveled from Sichuan province, more than 3,000 kilometers away, to work with the group. "This exercise was a very valuable chance to follow their steps and enable me to have a better understanding of the big cat. Taking care of tigers is a way to protect the environment and ourselves."
The volunteers were divided into three teams and assigned to patrol Lanjia forest in Jilin, and Nuanquanhe and Dongfanghong forests in Heilongjiang province, which are the main habitats of the Siberian tiger in China.
According to wildlife experts, Siberian tigers mainly live in eastern Russia, Northeast China and the mountainous areas of the Democratic People's Republic of Korea. Fewer than 500 now live in the wild, including the nearly 20 that are in China.
"If we don't take action quickly, these big cats are likely to disappear from China," said Jiang Guangshun, deputy director of the State Forestry Administration Feline Research Center, who led the team in Dongfanghong.
"The border area between China and the far eastern part of Russia is their main habitat. So protection work is also being carried out in this area.
"By doing more to protect these areas, we can build a migration corridor to connect Northeast China and Russia and provide tigers with a larger and more comfortable habitat."
Olga Sass with the World Wide Fund for Nature's Russia Amur branch, praised the work and called for China and Russia to cooperate more closely to protect tigers and leopards.
Experts said poaching and the deterioration of habitats are the main reasons why the predator is endangered.