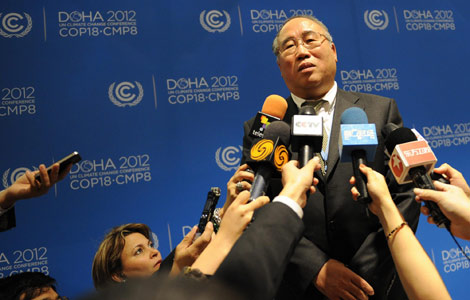 Head of Chinese delegation to the UN climate conference in Doha, Xie Zhenhua, talks to reporters, Dec 8, 2012.[Photo/Xinhua]
DOHA - Head of Chinese delegation to the 
UN climate conference
in Doha, Xie Zhenhua, presented China's first climate documentary to top UN climate official Christiana Figueres.
The documentary, named "Warm and Cold, We Share Together," describes in 12 episodes the relationship between the change of ecological environment and human civilization from both historical and realistic perspectives.
It calls on the mankind to take the responsibility to deal with the consequences of environment degradation and adopt a path of sustainable development.
Figueres, executive secretary of the UN Framework Convention on Climate Change, hailed China's climate actions in recent years and expressed confidence that China will meet and even exceed its anti- warming ambitions set in the new five-year-development plan (2011- 2016).
Hundreds of scientists, experts and officials were interviewed during the filming of the documentary.