Internet users increasingly rely on technology to manage their data
For Xu Di, a 25-year-old Beijing resident, teaching her father, 57, how to use the computer was always a difficult job.
"When I told my father how to copy and paste on the computer, he copied on his office computer and tried to paste on his home computer. When he found nothing was pasted, he blamed me for failing to teach him clearly," Xu said.
However, cloud computing made a big difference to Xu's life, and her father's.
Cloud computing is using computing resources, either hardware or software, that stores and delivers data as a service over the Internet.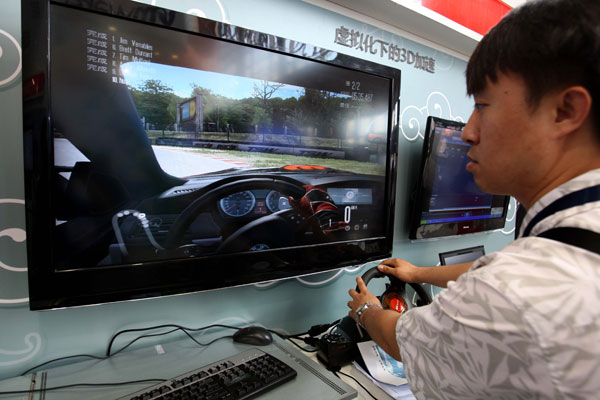 A visitor plays a game at an exhibition hall during the 4th China Cloud Computing Conference in Beijing on May 24. Zhu Xingxin / China Daily
With a Chinese cloud client-side application such as Evernote or Jinshan Kuaipan, copying from your office computer and pasting when you get home is possible.
"Photos, videos, contacts what you need to do is just register an account, and you can open anything you need, anytime, on any of your computers and your phones," Xu said.
However, Xu is just one of the Chinese computer users who take advantage of the new technology that has incrceasingly found its way into people's lives.
"Before I leave home every morning, I check the bus on my cellphone to see where it arrives. If I find it is still five stops away, I use the extra time to buy some breakfast at the nearby store," said Zhu Xing, 26, from Xiamen in Fujian province.
In June, Xiamen opened a bus inquiry system, which allows cellphone users to check the real-time position of buses they are waiting for.
"The system saves me a lot of time waiting at the bus stop, and it is really improves traffic efficiency," Zhu said.
Earlier this year, Nanning in Guangxi, Ningbo in Zhejiang, and Wuhan in Hubei had all installed the real-time traffic-query system.
Also, cloud computing extends to some home appliances that traditionally had less connection with computing technologies - for example, cloud televisions.
Some leading TV brands, including Haier, Hisense, and Konka, all jumped into cloud services.
Other TV producers, like Skyworth Group and Sichuan Changhong Electric, use cloud technology to add new functions to TVs, such as apps designed for the sets.
"In the future, users will become very busy controlling the indoor and outdoor environment at their homes," said a staff member responsible for an exhibition of home appliance producer Changhong, and quoted by Beijing-based newspaper Science and Technology Daily.
"We have developed six different kinds of home appliances, connecting to each other by wireless network, and all can be controlled by a cellphone, iPad or your TV."
Ying Fangtian, also quoted in the report, said the interaction between users and products is a trend of designing in the future.
"The ultimate goal for design is to make the world we live nice and warm. It improves our living quality while it drives up new industries. Cutting-edge technologies should change the world in this way," Ying said.
"Now I do not use my computer hard drive much because I find the chance that my hard drive will break down is higher than the chance that I cannot log on to my cloud," said Liu Chen, 26, a user from Beijing.
"Since I put money in the bank instead of at home, why do I have to keep data at home? Just put it on the cloud," Liu said.
However, Rui Jianwu, an engineer, warns users to pay attention to their data safety.
"As more and more people are using different cloud servers, the quantity of data is growing tremendously.
"The companies providing cloud services should improve their service from their administration of the data. For example, few companies have very clear regulations on obligations of compensation for losses by the failure of their server," Rui said.
This March, some representatives of the National People's Congress, the country's top legislature, raised proposals to draft an information security law to ensure users' data safety.
chengyingqi@chinadaily.com.cn