Mo Yan's works have had mixed success on the big screen.
Mo Yan's brush with cinematic fame started with a bang. In 1986, Mo published Red Sorghum as a novella; the following year the film version swept the world off its feet and went on to collect the Golden Bear award at the 38th Berlin International Film Festival.
Red Sorghum jump-started many high-octane careers, including Zhang Yimou as China's pre-eminent filmmaker and Mo as a major literary figure. Both have acknowledged the other's contribution to their mutual success.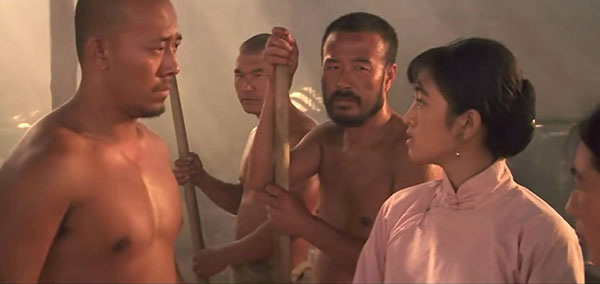 A scene from Red Sorghum, which was adapted from Mo Yan's novel of the same title in 1986, starring Jiang Wen (left) and Gong Li (right). Provided to China Daily
For Mo, "without the movie, I'd have been known only within literary circles".
However, the experience also exposed his ignorance about filmmaking as an art form separate from literature. When Mo first saw Gong Li on the set, he was not impressed.
"She looked like a college girl to me, without any trace of the female lead I envisioned for the part," he said. "She would ruin the movie."
In addition, the thick script he helped adapt from his own work was slashed by Zhang to only "seven or eight pages". The end result, of course, took him by surprise. The five-minute bridal sedan scene alone leapt from page to screen with striking visuals and unforgettable energy.
"And I was so wrong about Gong Li," he said.
Zhang's other film of another Mo Yan novel, however, was an abysmal failure. Happy Times (2000), based on Mo's writing, got mixed reviews both inside and outside China, with US film critic Roger Ebert calling it "creepy", even though the premise is eerily similar to Charlie Chaplin's City Lights.
Mo said that, unlike Red Sorghum, which also removed many plotlines from the original, Happy Times deleted "some of the most valuable things from my novel".
But Mo accepted that turning book to film is a double-edged sword.
"It is a pity, but once I give the rights to a filmmaker, it's none of my business. If the adaptation is good, I'd be happy because it will promote my book; if it's not good, it may have the adverse effect but that's not my shame."
Another failed project with Zhang was Cotton Fleece, which Mo wrote specifically for him. "I had Gong Li in mind when I was working on the story, her mannerisms and her way of speaking." He also set the crucial scene in a cotton field, knowing that Zhang has a penchant for vibrant colors.
But Zhang didn't like it. It also had scenes of the "cultural revolution" (1966-76) which were potential censorship minefields. The screenplay was later picked up by a newcomer from Taiwan and turned into a little-known feature.
Another of Mo's works fared better on screen. Nuan (2003) is set in rural China, but instead of the Bacchanalian abandon typical of Mo's style, the story is delicate and subdued, more a trait of its director, Huo Jianqi.
Mo has always believed that his better works such as Big Breasts and Wide Hips,Life and Death Are Wearing Me Out and Sandalwood Punishment are made for cinema. He lamented at the 2010 Shanghai Book Fair that no filmmaker had the foresight to adapt these stories, and said he would be more than willing to serve as their scriptwriter.
The consensus is that Mo's works have too much graphic sex and violence to be palatable for the big screen, which needs to be more sanitized than novels.
Compared with other writers, Mo has limited exposure to the glitter of showbiz, but his take on the symbiosis of the two art forms is unique.
For one, he does not believe in the conventional wisdom of using literature for storylines. "The more valuable thing novelists can provide for filmmakers is an ambience, a setting for values and intelligence, not just the plot."
On top of that, money has been a temptation to Mo just as it was to William Faulkner and other US writers who ventured into the muddy waters of Hollywood.
"I tried screenplays in the 1990s," said Mo. "I had a clear motive to make money." He was paid 15,000 yuan ($2,100) for each television serial episode, three times the market price. But he had to endure grueling rewrites.
His conclusion: Do not treat scriptwriting purely as a moneymaking tool. Be serious about it.
Back in 1987, Mo earned 800 yuan for the rights to Red Sorghum. That was in addition to the 1,200 yuan he got as one of three writers for the script.
"I was so excited I was awake the whole night. Nowadays, 800 is a pittance. Some writers make millions by selling the movie rights to their novels." Mo has been left wiser after his occasional forays into the business of films.
"Do not think of movie stuff when you write a novel. Do not pander to directors. It's their job to pick what's useful to them from the novels."
raymondzhou@chinadaily.com.cn