Most government vehicles were left in garages in Guangzhou on Saturday, the World Car Free Day, in a national campaign to promote an eco-friendly way of living in China.
This year, 151 cities in China joined in the campaign, according to the Ministry of Housing and Urban-Rural Development, one of the main promoters of the activity. Among them, South China's metropolis Guangzhou attracted much attention as it allowed only 10 percent of vehicles owned by government departments and institutions to be used on Saturday, local traffic administration office said on Friday.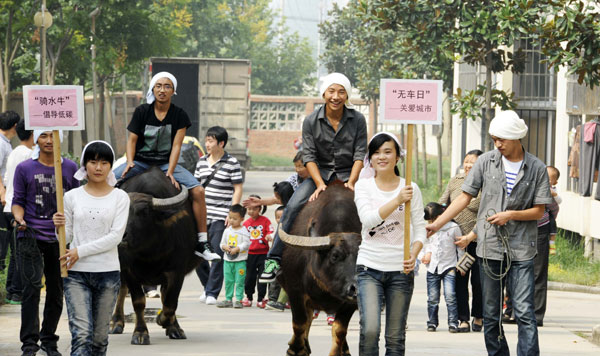 College students in Hefei, Anhui province, ride on buffaloes to promote awareness for World Car Free Day on Saturday. [Photo by Ge Chuanhong / for China Daily]
In addition, private vehicles not involved in emergencies were diverted from parts of downtown between 7 am and 7 pm on Saturday.
Around China, many other cities have defined specific areas where cars are not encouraged in the daytime. Other preferential policies have been implemented for some cities to encourage residents to take public transportation. In Zhanjiang, Guangdong province, for example, all the buses are free for the whole day.
Because of the campaign, "all of the traffic police are on duty on roads though it's Saturday," said Xiao Qiang, a publicity official from the traffic police detachment in Changsha, capital city of Hunan province. Xiao said 1,000 police had been posted at every crossroads downtown since 6 am, guiding cars to non-restricted areas.
She said that because such restrictive measures have been implemented for years on the day, the public is willing to go along, staying at home or taking buses.
"The transportation is better than the past weekends," she said, but admitted that the outcome was not as good as expected due to the coming holiday.
But many citizens doubted the effect of the campaign in such a limited time, and some are calling to withdraw the campaign in an online debate.
Cai Linghang, 25, said her friends still drove out as usual, "because they will not be punished or fined if caught."
"Besides, it's just a day. Habits cannot be changed in short time," she said.
Tang Kai, chief planner from the ministry, said that the campaign is "a necessary step to make people use public transportation and protect the environment".
He said more cities are joining in, because the effort can raise awareness about public transportation and reduce pollution. He said that carbon dioxide emission can be reduced by 140,000 tons if all vehicles in China would stop running for one day.
zhengjinran@chinadaily.com.cn