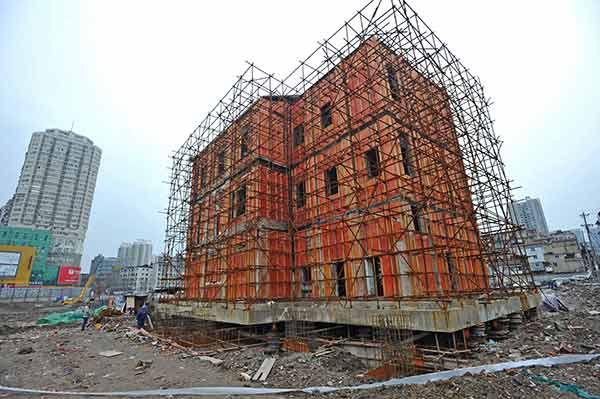 The three-story heritage building is carefully moved for relocation.[Photo/CFP]
Old building to be relocated 90-meters in C China
A three-story heritage building with the history of more than 100 years in Wuhan, capital of central China's Hubei province, will be horizontally transported 90-meters in a relocation project, CFP reported on Thursday.
The wood and brick structure with mottled red walls in Wuhan's downtown commercial center, was used as a fire station during the Republic of China (1912-49). After 1949, the building was handed over to the local public security bureau. It was listed as a cultural relics protection unit in 2011.
According to the report, six concrete slideways were built to help with moving the building, as its foundation has been hollowed. Li Liangliang, head of the construction team, said the most significant part of the project is the reinforcement of the building, to make sure it does not fall apart.
Structural lifting and moving technologies have been used in China for nearly 20 years and moving a structure has become a regular option to preserve important or historical buildings.
Some examples of successful building moves include the 73-year-old Shanghai Concert Hall, which was moved 66.46 meters to the south and lifted more than 3 meters in 2003. Yuzhen Palace, a 600-year-old Taoist structure on Wudang Mountain, Hubei province, was lifted by 15 meters in 2013.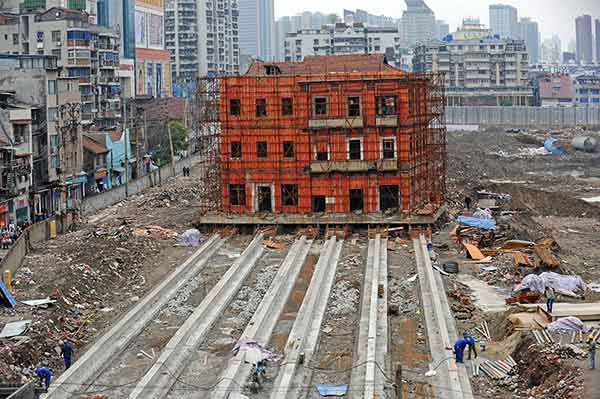 A heritage building more than 100 years old is wrapped in scaffolding as it is carefully transported 90 meters in Wuhan, Hubei province, March 9, 2016.[Photo/CFP]
In our next story, a group of caciques 'escape' from a zoo in Southwest China.