A Shenzhen elementary school principal who came under fire for rejecting an autistic boy has defended the decision, saying the child was disruptive and "scared his classmates".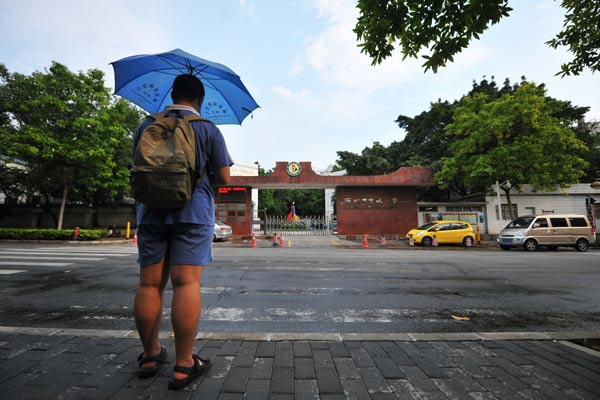 Mao Mao, 15, who is autistic, could not enroll for classes in Baocheng Primary School in Shenzhen, South China's Guangdong province. Photo by Sun Yi / for China Daily
The boy, 15, who has been referred to in reports as Mao Mao, started Grade 5 at Baocheng Primary School in May. Yet during the summer break in August, his mother received a letter saying her child was no longer welcome, she said.
"I know there must be difficulties about having an autistic child in class, but I didn't expect this," said the mother, who did not want to be identified. "I tried negotiating with the school several times but it ended in nothing."
The expulsion led to criticism from the public and the media, with many claiming the case highlights the problems autistic children face getting a good education.
However, Lin Xiyu, principal of the school, which is in Shenzhen's Bao'an district, told China Daily he is disappointed at how the matter has been reported.
"It's not that we don't want to help," he said. "We accepted him on a probationary basis, even though he wasn't the right age — most of our fifth-grade students are 11 years old. We also told teachers and other children to be friendly to him.
"But, in the end, we just couldn't help," he added. "Students got hurt, and we want his mother to face up to the real situation."
Lin provided a report on Mao Mao's behavior during the last school year.
It stated that, initially, when his mother — a trained nurse — accompanied him in class, the boy behaved well. Yet when she returned to work and he was left alone, his actions became "abnormal", including brandishing his fists, smearing spit on classmates' textbooks and desks, and screaming.
The report also stated that the boy had been caught masturbating in corridors and toilets at the school.
"His behavior influenced the children surrounding him very much," said Mao Mao's teacher, who gave his name only as Cai. "I could see the fear in their faces."
Lin said Baocheng Primary has three other students with "slight autism", the oldest of whom is 12 years old, and that they have had no problems at the school.
Eager to learn
Mao Mao's mother, a single parent, said before her son was enrolled at Baocheng Primary, he attended Yuanping Special Education School, also in Shenzhen, where the district education authority said he is still registered. He also previously attended a public school in Wuhan, Hubei province.
"My son is only slightly autistic," she said in her apartment near the school. "He sings well and plays piano.
"All I want now is to get him back in school. He likes this school, he likes his classmates and teachers, he doesn't want to leave," she said, wiping away tears. "He's just got a year left in primary school. Why don't they give us a chance?"
The mother added that she still wants Mao Mao to attend a regular school, rather than return to Yuanping Special Education School, which is an option, because she feels it will help him integrate better into the community.
However, Principal Lin disagreed and recommended the teenager be given one-on-one teaching from a specialist.
Cheng Xuecai, director of basic education for Bao'an education bureau, said that children with disabilities have been able to enroll at regular schools, according to a local policy implemented in 2007. All they need to do is pass an evaluation.
"We have hundreds of students who require special education in (regular) schools, but this has never happened before," he said. "The principal at Baocheng Primary told the boy's mother her child could attend for two months, and if it worked out they would transfer his registration. But it didn't."
Mao Mao had not been expelled, Cheng said, adding that the school had requested he be given an evaluation before returning.
"The one-sided reports have harmed the school's image … and this could put off other schools from accepting children with special-education needs," he said.
Schools seek answers
Liao Yanhui, secretary-general of the Shenzhen Autism Society and mother to a 17-year-old autistic boy, said she feels education authorities are failing to support such youngsters.
"The problem is not whether to go to a special school or regular school, or whether the child is slightly or severely autistic —it's the right of all children to attend a regular school," she said. "The problem is, there isn't a support system to assist autistic students in class."
She said mentally disabled children who have successfully integrated in regular classrooms all have social workers or special-education teachers with them in class, who are paid for by the parents —at a price of 4,000 to 5,000 yuan ($634 to $793) a month — which she believes should be covered by education departments.
However, You Xiaoyang, principal of the private Shenzhen Bolin School for autistic children, argued against sending autistic children to regular schools, as it is "neither good for the child nor society".
Autistic children do not have social discipline, he said, so their parents must help them build social consciousness and make sure they follow the rules of society before they can study at a regular school.
"The thing is how to educate autistic children, not how to accept them," he added.
Cheng, of the Bao'an education bureau, said officials are discussing measures to help students with mental and physical disabilities to more easily attend regular schools, such as recruiting specialized teachers and social workers.
Meanwhile, the Ministry of Education is planning to hold a seminar on the topic. Delegates will likely discuss a proposal by the One Foundation, an NGO founded by film star Jet Li, to protect the rights of autistic children in education with a new law and special funds.
The foundation has invested 22 million yuan in its Ocean Heaven program, which aims to support the education of children with autism, brain paralysis and rare diseases. It has set up 114 private autism recovery centers and schools.
It also funded a study by the Shenzhen Autism Society that discovered autism organizations lack funding and staff.
Contact the writer at huangyuli@chinadaily.com.cn
Mao Mao's name was changed to protect his identity.