A mum's love for autistic daughter
Updated: 2012-05-09 16:49
By Huang Zhiling (chinadaily.com.cn)
| | | | | | | | | | | |
| --- | --- | --- | --- | --- | --- | --- | --- | --- | --- | --- |
|   | | Comments() | | Print | | Mail | | Large Medium  Small | 分享按钮 | 0 |
Recalling the solo piano performance by Ding Ziying, Shi Wanxiang is excited and says: "I am proud of her accomplishment and moved more by her mother Lan Li."
Shi, former chief of the exhibit and publicity department of the Du Fu Thatched Cottage Museum in Chengdu, Sichuan province, was one of some 100 people hearing Ding's solo performance held in the city's Eastern Music Park on the afternoon of May 5.
In the hour-long performance marking her 18th birthday, Ding, who was accompanied by her mother, finished 10 famous Chinese and foreign pieces including "Cowboy Cavatina", "Fountain", "Chanty of the Ussuri River", "Clouds Chasing the Moon", "Tribute to Love", "Girl's Prayer", "Dream Wedding", "Performer" and "Military March".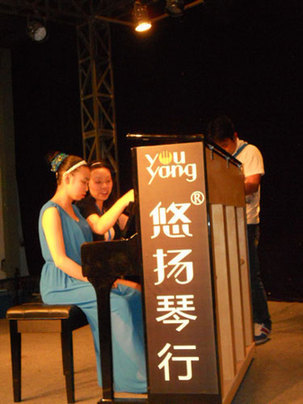 Ding Ziying (left) and her mother Lan Li during her solo piano performance held in Chengdu, Sichuan province, on May 5, 2012. [Photo/Huang Zhiling]
After the performance was over, the audience, touched by her mellow music, mounted the stage embracing the autism sufferer, presenting her with flowers and wishing her the best.
"People who know Ziying very well would say she has a great mother," says Shi, who is an old friend of Ding's parents and visited her in the hospital soon after she was born in 1994.
At Ziying's birth, her parents looked forward to a rosy future for the beautiful baby. But as she grew up, changes took place unexpectedly.
Lan says: "Ziying did not listen to teachers in the kindergarten and did not play with other children. She never stopped running and jumping. At home, she did not speak and could not take care of herself."
When she was five, Ziying's parents took her to Nanjing and Shanghai where medics diagnosed her as suffering from autism.
"I felt as if I had fallen into a dark tunnel where I could not see a ray of light. We lived together. But the child was like a being from another planet whom we did not understand at all," Lan recalls.
In order to end Ziying's lonely status, her parents asked her sister to accompany her to the kindergarten where Ziyang stayed until she was eight.
When she was nine, her parents hired a nanny to accompany Ziying in the first grade at a primary school where she started talking, memorizing textbooks and playing with classmates.
But she was too energetic and could not remain quiet. To calm her down, Lan asked a teacher to teach the youngster how to play the piano.
At the beginning, Ziying would run away at the sight of the piano. Lan had to bring snack food as a reward and a ruler as punishment to keep Ziyang attending the class in the teacher's home.
Back at home, Lan kept herself and Ziying locked in a room to practice what the teacher had taught.
"Although Ziying cried, I did not give up until she met the requirements of the teacher. Gradually, Ziying could stay longer by the piano and could play it very well even if she did not understand musical notation," Lan says.
When she was 12, Ziying participated in the final of the National Youth Art Talent Recommendation Competition held in Beijing and won a gold prize for the handicapped category. Thanks to the invitation of its organizing committee, Ziying participated in that year's CCTV Children's Spring Festival Evening Show.
It was in the competition that Lan met Wu Tong, a dance teacher who wanted to change Ziying with dance.
Ziying, who had never learned dancing before, felt great pain in training sessions and cried, bashing her head against the floor. But Lan did not ask Wu to stop.
After laborious training, Ziying managed to follow instructions and learn how to control her own body. She would sit down for longer, read and learned to distinguish colors.
So many people have shown concern for Ziying's development. To show gratitude and let more people understand autism and care for autistic children, Lan organized a solo piano performance in the Jinsha Theater in Chengdu two years ago.
"The story of Ziying and her performance motivated many," Lan says.
Shi quite admires Lan's strong will and perseverance.
"If I were in her shoes, I would not have been able to endure the hardship for 18 years. In addition to caring for Ziying, Lan graduated from Peking University via a long-distance education program and wrote tens of thousands of words recording the development of her daughter," she says.