Experts have called for more professional training in dealing with emergencies for subway security check personnel after a deadly hostage situation in Beijing last week.
On Thursday night, a man held a female security check officer hostage at knife-point at exit B in Beijing's Line 10 Hujialou station. He was shot dead by a sharpshooter after police negotiated with him for more than 70 minutes, according to the Beijing Public Security Bureau.
On Sunday, a China Daily reporter found only two workers conducting security checks at exit B.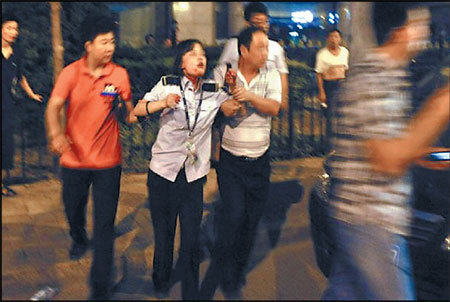 The female subway security check officer, who was taken hostage by a man at Hujialou station, Beijing Subway Line 10, is taken out of the station after the man was shot dead by police on Thursday. Huang Liang / for China Daily
"Our job is still to observe passengers, asking those with bags to put their belongings through the X-ray machine," said a subway worker in his 20s who gave his name as Li. Both the workers said they had never heard about training for metro staff and that the work was the same as before.
The stationmaster declined to give details about the incident on Thursday and said no special changes had been made with the security check workers.
Wang Hongjun, director of public order administration research at the Chinese People's Public Security University, said on Sunday that young urban security workers in China get little training in dealing with emergencies.
"Security check training should be divided into two parts: how to distinguish dangerous articles and what measures should be taken when emergencies occur," Wang said, adding that not enough attention is given to the second part.
Most security check personnel are 20 to 30 years old, he said, and have insufficient experience to read passengers' expressions or behaviors.
"They've hardly had training in dealing with panicked passengers or negotiating with people who are violent or have bad intentions. It's a gap in subway management," he said.
"Meanwhile, subway security checks are a long-term, everyday event, not at all like those at major activities such as the Olympic Games and concerts," he said. "The latter require workers to pay attention only at a designated time and place; but the former may cause staff fatigue and inattention."
He said employees in foreign countries receive regular training and the training sessions are given in turns.
"When workers feel tired, they're sent to training classes, which not only helps alleviate the fatigue, it also improves their abilities," he added.
"We can't require each subway staff member to be active every day, but we should ensure that they are fully alert during the security checks," he said. "And the training content cannot be simple and repeated. Instead, it should absorb practical measures."
Zhang Zhuting, a professor at the Transport Management Institute under the Ministry of Transport, echoed Wang and said subway training has a long way to go because it needs sufficient investment from the government.
"Most subway workers are former college students without police knowledge, so big investment is needed if the government wants to train them," Zhang said, adding the huge workload must be a challenge for both trainees and trainers.
Chen Yang, 24, a student at Beijing Language and Culture University, who takes the subway every day, said she was not frightened by the hostage incident, but she worried about the staff's careless work.
"I've seen them chatting without monitoring the computer screen many times, which shows what's in passengers' bags, an important part of security check," she said, "It's very easy to let people carrying with dangerous weapons pass."
Contact the writers at caoyin@chinadaily.com.cn and zhengjinran@chinadaily.com.cn