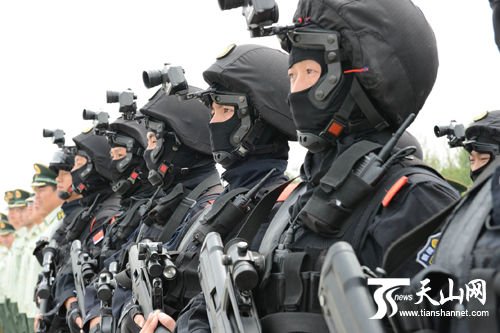 Soldiers of special forces stand at attention during a counter-terrorism drill in Urumqi, Xinjiang Uygur autonomous region, July 4, 2012.
URUMQI - A top official of Northwest China's Xinjiang Uygur autonomous region oversaw a counter-terrorism drill staged by special forces in Urumqi ahead of the anniversary of the July 2009 riots.
Zhang Chunxian, secretary of the Xinjiang committee of the Communist Party of China, on Wednesday asked the soldiers to keep vigilant against all sorts of hostile forces and to strike "three forces" - a term for separatists, extremists, and terrorists -- with "iron fists."
"We should leave terrorists no place to hide," Zhang was quoted as saying by local media.
The official said Xinjiang's overall situation remains stable but faces "severe challenges."
Soldiers practiced hostage-rescue and disposal of explosives in the drill.
Xinjiang has gradually recovered from the deadly riots on July 5, 2009, the worst outbreak of violence in decades. Rock-flinging and knife-wielding thugs looted shops, torched vehicles and killed nearly 200 people in the regional capital Urumqi.
The government blamed overseas groups for inciting the riots.