Culture barriers
Language difficulties and culture barriers have resulted in law enforcement agents showing a greater degree of tolerance when dealing with cases related to foreigners, said Liu Qinglong, professor of Sociology of Tsinghua University.
"Law enforcement staff need to improve their work practices, such as learning some basic English and becoming familiar with the regulations and laws on the management of foreigners," he said.
Jones believes that foreigners and Chinese should be treated on an equal footing. "I've found that Chinese authorities are afraid of handling cases involving foreigners," he said. "One of my friends was stopped for speeding on his motorcycle, but as soon as he removed his helmet and the police found out he was a foreigner, they just let him go."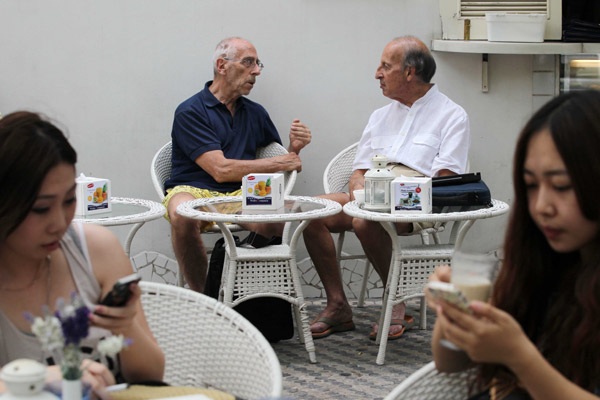 Many foreigners have arrived in China in recent years, either traveling or working in the country. The authorities are now advising foreign nationals to carry their passports and other registration cards at all times in preparation for routine "stop and check" inspections. Wang Jing / China Daily
He also said that employers are key to tackling the issue of foreigners working illegally. "When I worked part time as an English teacher on a tourist visa, the school simply wasn't bothered about getting me a work visa. They told me that most teachers don't have work visas and it wouldn't be a problem."
"It is an open secret that many foreign teachers in China's English institutes are holding tourist visas while working. The institutes like to employ them, because they only need to pay wages and don't have to worry about paying for insurance or providing other benefits." Liu said. "They need to be blamed."
Jones said one of his friends was fined 1,000 yuan ($160) a couple of days ago, because he was working as an English teacher without a work visa. "He told me he was pretty relieved because the penalty was really not much."
"Foreigners enjoy many privileges in China and they are treated much better. They have been spoiled," said Qiu Lin. "Apart from the ability to speak English, most of these people lack other skills. They hold tourist visas when teaching in private institutes."
Qiu lives close to the Sanlitun area and said she is afraid to walk home at night after being harassed by drunken foreigners several times. "China's management of foreigners is too loose. That gives many of them the feeling that they're free to do anything. The government needs to tighten the supervision and controls."
Growing problems
"China has a growing problem with illegal immigrants, and such problems are not usually resolved by governmental dictate. They require support from employers and the authorities at all levels," said Rodolfo de la Garza, a professor specializing in immigration policy at Columbia University in New York.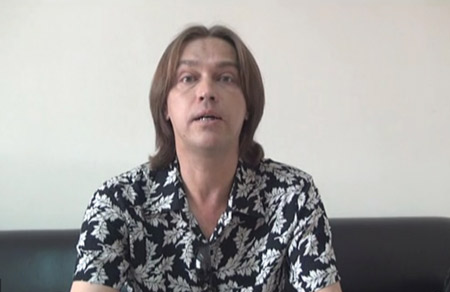 Russian national, Oleg Vedernikov, a cellist with the Beijing Symphony Orchestra, apologized for his poor behavior on a train in this online video. Provided to China Daily
He said if illegal immigrants are displacing Chinese citizens in the workplace, the authorities may be able to use that fact to influence public opinion. However, if foreigners are valuable to a certain business sector, that sector will lobby against implementing crackdowns. He believes that the recent crackdown is actually aimed at assessing the extent of the problem: how many people have overstayed their visas? who is complaining? and who benefits from their presence? Once the authorities have some answers, they will be able to develop better policy options.
Meanwhile, De la Garza questioned why the issue has become such a hot potato. Some expats believe there is a bigger picture behind the crackdown and say the government is responding to the case of a British man who allegedly sexually assaulted a Chinese woman in public in Beijing. Moreover, Oleg Vedernikov, a Russian cellist with the Beijing Symphony Orchestra, was filmed while apparently verbally assaulting a woman on a train. However, the Beijing Municipal Public Security Bureau insisted that the crackdown has nothing to do with these incidents.
Yang Rui, an anchor on the English-language channel of Central China Television, showed his support for the crackdown on his Weibo account. Yang wrote that it is necessary to take out the "foreign trash", whom he labeled traffickers, spies or people without jobs. Many foreigners were outraged by Yang's comments, called for a boycott of his show and demanded he be fired for discriminating against foreigners.
Yang later apologized and told the UK's Guardian newspaper: "My wording was very strong and incompatible with my image as host of a professional talk show, and I can say for sure I am sorry for hurting those who respect my profession."
Yang turned down China Daily's request for an interview, saying he'd rather remain silent at the moment.
Following Yang's Weibo post, the expat community has been abuzz with rumors of an increasing number of attacks, both verbal and physical, against foreigners, but Beijing police denied that there has been an upsurge in such cases.
"Obviously, more foreigners will arrive in the years to come, because of China's economic development and the increasing number of business and cultural exchanges. Also more foreigners will come to seek business opportunities and work as their home economies deteriorate," said Xu Guangjian, deputy director of the School of Public Administration and Policy at Renmin University of China in Beijing. "However, as more foreigners arrive, the problems concerning their presence will also gradually appear."
China has very clear rules governing the influx of overseas students in the country, but hasn't the same level of expertise when it comes to those who come here for work. It is still a weak link in the management chain, he said.
Xu added that with the increasing numbers of foreigners, Beijing and other cities will need to establish transparent and updated regulations, under which the rights of both foreigners and Chinese can be better protected.
"We need to admit that the majority of foreigners in China are good people and that those who misbehave only account for a small proportion. We should use other countries' experience of immigration as a guide, and draw up new rules on the presence of foreigners. Meanwhile, we should also establish a long-term inspection mechanism and not resort to campaign such as this," said Xu.
Contact the reporters at cuijia@chinadaily.com.cn, hena@chinadaily.com.cn or pengyining@chinadaily.com.cn