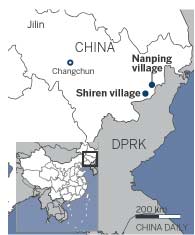 Three Chinese citizens were confirmed dead in a city bordering the Democratic People's Republic of Korea on Wednesday, but authorities failed to verify media reports identifying DPRK army deserters as the suspects.
Police are investigating the slaying of a 55-year-old man surnamed Zhao, his 26-year-old daughter and another man, surnamed Sun, 67, in Shiren village, the Helong city government in Jilin province said on Sina Weibo on Wednesday. The incident was reported to police early Saturday morning, it said.
Beijing-based Global Times reported that three soldiers fleeing the DPRK were suspects, citing the Republic of Korea broadcaster KBS.
If the report is confirmed, it would be the third deadly attack in China's cities bordering the DPRK.
A runaway soldier from the DPRK killed four Chinese citizens during a robbery in the village of Nanping, north of the Tumen River overlooking the DPRK's North Hamkyong province, on Dec 27, prompting Beijing to lodge a diplomatic protest to Pyongyang. On Sept 3, a DPRK citizen crossed the border and killed a Chinese family of three in the same village.
Chinese public security authorities will look into the case with the DPRK's assistance, as the two sides have agreed to a bilateral judicial assistance treaty, said Hong Daode, a criminal law professor from China University of Political Science and Law.
But he said the suspects-if confirmed by the DPRK-will not be put on trial in China since the treaty did not include clauses detailing extradition.
Victims' families could face difficulties asking for compensation from the DPRK, and the local government will not be responsible to cover the money, he said.
He said the series of incidents reveals security loopholes in places bordering the DPRK.
China and the DPRK share a 1,300-km border, with more than 1,200 kilometers on a shared waterway.