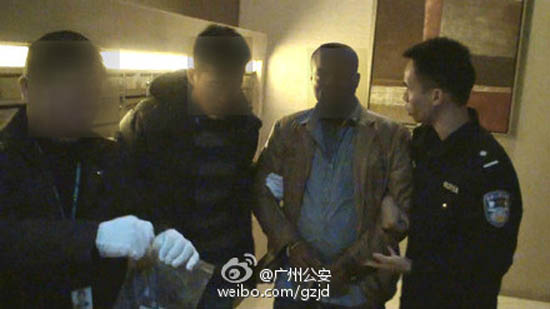 A suspected member of the 'Freedom Fighters', second from right, is arrested. [Photo/Weibo]
Police have busted a gang of foreigners living in Guangzhou, capital of Guangdong province and arrested 18 suspects.
Gang members are accused of robbery and drug trafficking in at least seven criminal cases, authorities said on Tuesday.
Dubbed the "Freedom Fighters", the gang was formed in 2009 and has recruited more than 20 members so far.
It is strictly organized and all members wear matching uniforms and hats bearing the gang's logo after being recruited.
The group even has a priest and treasurer, police said.
Police launched two separate sting operations targeting the "Freedom Fighters" in February and last week, arresting 16 foreigners and two Chinese.
Large amounts of cocaine and tools suspects allegedly used when committing crimes were seized.
Guangzhou has about 120,000 permanent foreign residents, including 16,000 from Africa, according to official statistics.
Law enforcement officers investigated more than 5,000 illegal foreign workers in Guangdong province last year, the Guangzhou Daily reported.
Most had no work or residence permits and were employed mainly in labor-intensive industries in the prosperous Pearl River Delta region, where there is a major shortage of workers.
The number of illegal foreign workers in the province has been rising in recent years. Dongguan, a major production center, investigated 400 foreign illegal workers in 2013, but the figure doubled to more than 800 last year.
In 2011, the Guangdong government tightened rules covering foreigners living and working in the province as part of an effort to crack down on illegal immigration and those who overstay visas or work without permits.