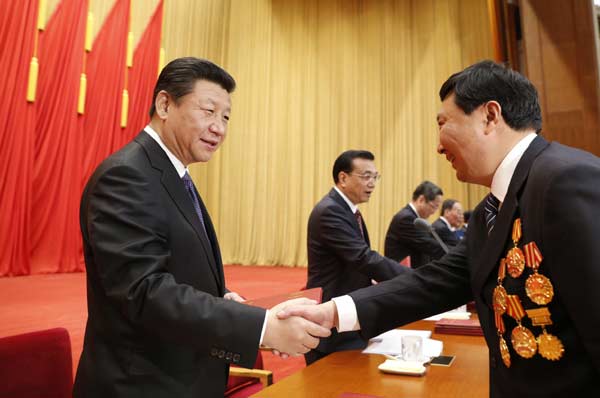 President Xi Jinping (left) shakes hands with an outstanding worker of the country at the Great Hall of the People in Beijing, April 28, 2015. [Photo/Xinhua] 
Outstanding employees and farmers among those honored in ceremony to mark May Day
President Xi Jinping urged the country on Tuesday to value hard work and innovation, and to teach children to do the same.
He made the remarks in Beijing as nearly 3,000 outstanding workers from around the country were feted at the Great Hall of the People in honor of International Labor Day, also called May Day.
All seven members of the standing committee of the political bureau of the Communist Party of China Central Committee appeared on the rostrum, and Premier Li Keqiang presided over the ceremony.
"We shall all carry forward the spirit of model workers... to gather powerful positive energy for China's economic and social development," Xi said in a speech.
"All of society should be proud of working hard and be ashamed of idleness. No one at any time should look down on ordinary workers and seek a life of reaping without sowing," he said. "We are living in a great and inspiring era; we have no predecessors of the great cause."
China has a tradition of honoring outstanding workers ahead of the May 1 holiday.
Since taking office in 2013, Xi has kept pushing society to follow healthy and positive values, from fighting corruption to urging a thrifty lifestyle.
A total of 2,968 people were awarded the honors of "national model workers" or "national advanced workers" at the ceremony.
Among them were 1,471 company employees, 593 farmers and delegates from other fields, including intellectuals. Thirty-eight delegations from around the country gathered in Beijing for the event.
Su Bin, head of the Economics and Technology Department of the All China Federation of Trade Unions, said employees who made contributions to technology improvement and innovation are among those being honored. So far more than 58,000 innovation workshops led by model workers have been established throughout the country, according to the federation.
"At present our country has entered the crucial phase to build a well-off society in an all-around way. The working people are duty-bound to fulfill the great mission," said Li Wanjun, the top welder of Changchun Railway Vehicles Co under China CNR Corp.
Li, 47, was praised by Premier Li as "master of high-speed train welding". He has led his team to 21 national patents since 2010.
Many foreign companies have invited Li Wanjun to work for them, but he has stayed with the Chinese company he has served for 28 years. "We will closely bind our personal dream with the Chinese Dream and build up a better life through work," he said.