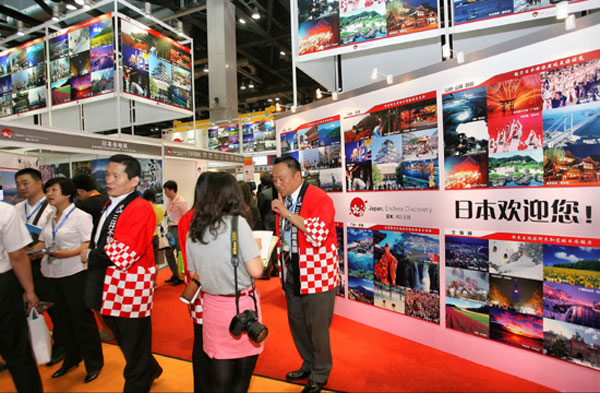 Travel promoters at Japan's booth at the 2011 Beijing International Tourism Expo. [Photo/China Daily]
Japan is the top choice of Chinese travelers planning an overseas trip during the upcoming May Day holiday, according to an online survey by Ctrip, a travel service provider.
Followed by Japan are Maldives and Thailand, which are likely to see a flood of Chinese visitors. The three-day May Day break is much more favorable with Chinese tourists than this month's Tomb Sweeping Festival due to warmer weather.
Around 60 percent of those surveyed said they would take extra days off to make longer vacations.
Travelers can make a 10-day break, including the following weekend, by taking five days off after the holiday. Another plan is to take four days off before the holiday to make a nine-day break.
The top three domestic destinations are Fujian province's Xiamen, Yunnan province's Lijiang and Sichuan province's Chengdu.
According to the Japan National Tourism Organization, 2.41 million Chinese people traveled to Japan last year, an increase of 83 percent from 2013. The Chinese mainland is the third largest source of overseas tourists for the country, after Taiwan and South Korea.
More Chinese holidaymakers are visiting Japan due to easier requirements for multiple-entry visas and the depreciation of the Japanese yen against the US dollar.
In 2014, the number of Chinese tourists traveling abroad increased by 19.5 percent year on year to 109 million, topping a threshold of 100 million for the first time in history, according to China National Tourism Administration.
Releated: May Day is play day