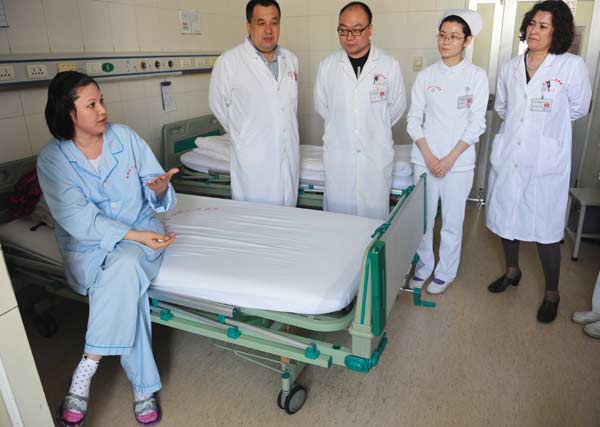 Assem, a patient from Kazakhstan, discusses her condition and prognosis with medical staff after undergoing surgery for breast cancer at a hospital in Urumqi, the capital of the Xinjiang Uygur autonomous region. ZHU YI/CHINA DAILY
Authorities in the Xinjiang Uygur autonomous region plan to transform the area into a hub for international medical tourism and attract patients from across Central Asia. Cui Jia reports from Urumqi.
After undergoing surgery for breast cancer at a hospital in Urumqi, the capital of the Xinjiang Uygur autonomous region, Assem, from Kazakhstan, said she was confident of making a full recovery. Assem's surgeon - Xinjiang native Jenskaliya Zimu - is well-known in Kazakhstan because he has successfully operated on a number of patients from the Central Asian country.
Assem, who declined to give her surname, is one of a growing number of patients from neighboring countries, including Kazakhstan, Tajikistan and Kyrgyzstan, heading to China's westernmost region because the level of medical care is higher than at home.
"Also, we have no language problems here because many of the doctors and nurses are from the Kazak ethnic group, so we speak the same language and have similar cultures, which makes me feel very comfortable," said the 35-year-old, who is undergoing treatment for breast and thyroid cancer at the Xinjiang People's Hospital in Urumqi.
In March, Zhang Chunxian, Party chief of Xinjiang, revealed that even some leaders of Central Asian countries regularly visit Xinjiang for medical checks, which gave him the confidence to upgrade the facilities and services with the aim of making the region a popular destination for people from Central Asian countries along the route of the proposed Silk Road Economic Belt.
The economic belt, proposed by President Xi Jinping in 2013, aims to revive the famous ancient trading route, becoming an overland network that will connect China, Central Asia, Russia and a number of European countries. Now, the central government has named Xinjiang, a crucial link on the ancient route, as the only core region on the Chinese stretch of the proposed new route.
Jenskaliya Zimu is a member of the Kazak ethnic group, but has found fame outside his home region. "Many people in Kazakhstan know my name simply by word of mouth," the 47-year-old said.
When he briefed Assem about the results of her blood tests and the preparations for a new round of chemotherapy, he spoke to her in the Kazak language, but the nurses, who are Han Chinese, have to use a translator whenever they need to explain procedures.