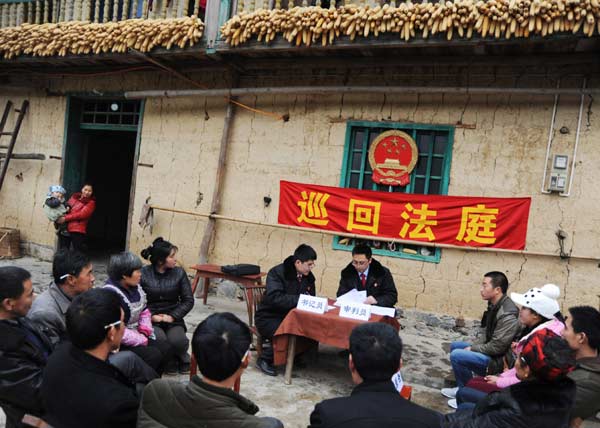 Two judges from a court in Fengjie county, Chongqing, resolve civil disputes among villagers in Taoyuan in March. Such circuit courts have been set up to improve efficiency. RAO GUOJUN/CHINA DAILY
Reference to previous rulings can help bring consistency, credibility to verdicts, experts say
Judge Li Xiao always had questions about how to sentence a man who kills another when the victim had also committed a grave error. But thanks to some guidance issued by China's top court, using specific cases to advise grassroots courts, he found an answer.
"Sometimes it is hard to punish offenders when victims also did something wrong. In a country with developed statutory law, different judges might have different opinions on the same legal clause," said Li, a senior judge of the Beijing Chaoyang District People's Court.
China's continental legal system, in which statutory clauses and judicial interpretations address general principles, "easily confuses judges as they hear cases," said Li, who works in the court's criminal department.
To reduce confusion, the Supreme People's Court began selecting and publishing typical cases in 2011. Forty-four have been released so far, according to the top court.
The cases contribute to uniformity in sentencing standards and improve trial efficiency, Li said.
Cheng Lei, an associate law professor at Renmin University of China, said identifying key cases helps illuminate the law more vividly by providing context, and therefore helps to ensure accurate application by judges.
The process of selecting typical cases is time-consuming and careful, Cheng said.
"It's a trend. Countries applying statutory law can learn from case-law regions," he said, adding that such integration is a way to close the gap in judicial understanding.
However, the current disclosed cases are far from enough if the country wants to rapidly improve its legal system, said Li Guifang, a lawyer at Deheng Law Offices.
After all, the typical cases now are merely references with no legal effect, Li said, suggesting the top court should give the cases the weight of judicial precedent.
Supplement to statutes
Li said he clearly remembers a case issued by the top court at the end of 2013, because it explained how to sentence a murderer when victims did something wrong at the same time.
The case originated in Hubei province, when Liu Jiakui, a vendor in a market, killed a man and injured a woman he accused of unfair price manipulation. The provincial High People's Court sentenced Liu to death, but that decision was rejected by the top court.
The killing took place after several arguments among the three people, and Liu once turned to the local commercial and industrial body and to the police to solve the dispute.
"Liu could not bear them and stabbed them after previous mediations failed," Li said.
Although the killing was extremely violent, the top court sentenced Liu to death with a two-year reprieve.
"The top justice explained the application of the death penalty vividly through this case. It taught me to think twice when sentencing a killer," he said. "The typical cases are my good helper to understand the written laws. Our department often organizes us to study the cases and asks us to learn from each other."
In January, Zhou Qiang, president of the top court, said it's a must to publish more typical cases this year to improve the quality of trials at grassroots courts and maintain justice.
The cases help to avoid giving offenders convicted of similar offenses different penalties across the country, and this strengthens judicial credibility, Zhou said.
As opposed to tedious written statutes, cases are easier to read and offer concrete examples, shortening the time required to make a judgment in similar disputes, he said.